+

Sensual Sadistic Erotic…Enter My World, Surrender and be Consumed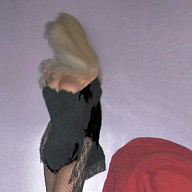 Mistress Domme Confidant
I am your Superior, slaves will bow down and obey.
The world would be a much better place with women running it. Men, you had your chance and you screwed it up, step aside.
The Look
Mistress Augusta is a 5'9", slender, all natural caucasian woman in her early 40's with long blonde hair and brown eyes.
She is available for Men only.
Pro/Lifestyle Domme with many years of experience.  I am an all around Domme, meaning I am not limited to only a few aspects of BDSM.  I am naturally Dominant.  I believe in Female Supremacy.  Power and Control over one is like a drug flowing through my veins…Total Power Exchange.  I take pleasure in dominating one both sensually and sadistically.  I enjoy many fetishes and find them highly erotic.
Know that I am an educated, intelligent, sharp, sophisticated woman…Dominant Alpha-Woman that just happens to have a devious twisted mind.  I have many interests besides BDSM, some are listed below.
I am unique and you will find that out when you speak with me.  I do not follow a script.  I do not assume, presume anything about you.  I always get to know one, take an interest in you…it enhances the BDSM, D/s, Fetish experience for both of us.  I have few hard limits, you will respect them.   Your limits will be respected and pushed should you consent.
I am very selective about one for real time sessions.  To be considered, you must have a full understanding of D/s, BDSM.  You desire, crave this in mind, body and soul.  You have educated yourself about it.  No, previous "playing around" does not count as education/experience.  There is a screening process and it will be my decision to let you enter my world or not.
I love natural born slaves or ones that have had the mentality, the desire, the craving from an early age to want a Mistress, serve her.  One understands the trust and the bond that forms between the two.
The slave will be collared, leashed, controlled. slave will obey, suffer, be devoted to Mistress.  Mind, Body and Soul will be consumed…slave is owned.
Interests
I do enjoy living the BDSM Lifestyle and exploring Fetishes.  I am involved with finance, economics, trading and participate daily.  I love good intelligent conversations on pretty much any topic and welcome bantering, making it exciting.  I enjoy fine dining, prefer French and Italian.  Also love a good steak.  I enjoy reading mystery novels, english literature, poetry and of course erotica.  I like watching old movies.  I like the opera, ballet, nights out on the town…warning, you will be out all night.  I love to travel, love the beach/boating and yes, shopping, going to the spa.  I love being in the company of men and have a fondness for ones from the UK and Europe. 
I have many BDSM, Fetish interests, some can be found here http://mistressaugusta.blogspot.com  It is not possible to list them all and I prefer to speak about them.  If you do not see a particular interest that you have, you may ask me.
Expectations
When contacting me, you will address me as Mistress.  You will be respectful, courteous and on your best behavior.  You are in my Lair, you will obey me and follow my rules.  Do not even think about negotiating the "fee"  It is what I say it is.  Here's a tip, never try it with any Domme. 
I am Independent which means that you will only be speaking/dealing with me.  Phone calls and Emails will be answered promptly.
I am normally available Mon-Thurs 12-3:30pm and 7:30pm-12. 4:30pm-7pm, you may ask.  Fri, Sat, Sun - advanced scheduling is required.     
Be advised, there is a screening process.
Contact Info
Contact
Information
External Links
Add Mistress Augusta to...