+

Sensory Artist and Healer - All natural (body hair)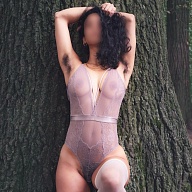 I always attract good company, and never miss an opportunity to share in love, light, food and friendship.
A creature of the desert, I am an Ivy League scholar, cultured, well-traveled, multi-lingual, musically and artistically-inclined, compassionate, intuitive, open-minded, and open-hearted. Feel free to ask me any questions about anything and everything you'd like to know – I'm not one to hide any piece of myself.
I appreciate the natural beauty in myself and others, so I do my best to leave my body and image unadulterated. Read this as: little to no make-up, untouched underarm hair, no body-modification surgery, all-natural beauty.
When you're with me time slows down, your senses heighten, and your focus softens as you sink into the quiescent surrender of pleasure. Together we appreciate the stillness and tenderness of human connection – soft, warm, comfortable and kind.
Let's enter our time together as our best selves.
I prefer to serve a low volume of people. Why? – I strive to nurture a genuine connection with each individual that I choose to share time and space with. In all aspects of my life I prefer quality over quantity. This means preference is always given to established confidants, and my tribute should be viewed as an investment in a long-term, mutually-enjoyable companionship.
The Look
Sonya Ravi is a 5'3", slender, 28 year old woman with long black hair.
She is available for Male, Female, and Trans.
Interests
I am hyper in-tune to my sensuality and aim to help others dive deeper into their own. We do this through:
Tantra - breath work, eye gazing, intentional touch, warm embraces, closeness, and caresses
Fetish
Kink
Soft domination
Expectations
NOTE: Because my incall availability is limited, I am only able to offer incall sessions at no additional fee for a limited number of sessions a week. Once those are booked, I require a $200 incall fee in addition to the session tribute.
We will both be on time for our appointment. This means we will not be late nor early. If you are running late please inform me via text. I can normally accommodate up to 10 minutes of delay. Please do not arrive early. I use the time leading up to our appointment to clear my mind and ground myself so that you experience only the very best of me.
We will both be clean and not heavily perfumed.
I do hugs, not handshakes.
Once in my studio or hotel room you will promptly place the donation on any available surface. Let's get the technicalities out of the way so we can rush into the fun stuff – enjoying our time together!
We will share in some friendly conversation before we get started. This time is NOT counted as part of your scheduled massage time. There is no rush, I just want us to get to know one another face-to-face. This means you can expect to spend about 15-20 minutes more than your scheduled appointment time in my care. Please be aware of this and work around your schedule accordingly.