+

Elegant Healing Touch with Laya. Refined Sensuality and Mindful Connection.

Categories

Body Rub, Tantra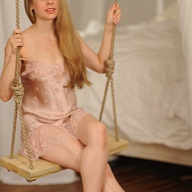 "When you have a busy demanding live it's always the simple, pleasurable, pursuits that get left behind. Let's change that!"
The Look
Laya Brett is a 5'4", all natural, 28 year old caucasian woman with long blonde hair and brown eyes.
"I practice a pleasing form of body work that explores the synergy between therapeutic, energetic and sensual healing."
When you have a busy demanding live it's always the simple, pleasurable, pursuits that get left behind. Let's change that!
Let us, instead, imagine that we share a comfortable… cozy moment together. Life affirming, loving energy pours through my hands and caresses your skin, your neck, your thighs. You journey through varieties of tactile sensation. You manage to escape from the mundane for a time; while paradoxically, capturing moments of greater aliveness.
We meditate on this subtlety of touch. You are relaxed but also invigorated.
In our age of information overload, you can take time to clear your head, to sloooow down and just be you. The more you take the time to fill the well within and reboot, the more positivity you have to bring to the other aspects of your life.
Hi I'm Laya, I have spent the past 8 years deepening my understanding of the art of holistic and sacred sensuality as a healing medium. I'm a petite, slender and athletic lady living in NYC. I'm 100% all american and have long hair, fair skin and light brown eyes. I could be described as fun-loving, intelligent, creative, genuine and down to earth. I'm a voracious reader. I love the great outdoors and am an avid adventurer and traveller. I'm extremely passionate about wellness and have a broad range of athletic and odd hobbies that you could find me doing on any given day. This includes being a longtime dedicated student of yoga and meditation.
I just want to be clear that I offer healing touch only. My profile does not intend to imply, nor do I ever offer anything but tantric style bodywork .
Your observance of my boundaries is very appreciated. Positive intentions and mutual respect make our time together pleasurable for both of us!
Thank you for taking the time out of your day to read through my profile. I look forward to hearing from you!
Interests
Booking:
Bookings must be made in advance. Same-day and short-notice appointments are not available.
For new clients, in particular, I will need plenty of time to complete screening.
Outcall appointments are offered at upscale residences and hotels in Manhattan (below 96th street), as well as some close-in neighborhoods of northern Brooklyn.*
1 hour Outcall 400
1.5 hour Outcall 560
A deposit of $60 is required to book the session. I have a couple of easy options to make the deposit online beforehand.
* (Other close-in neighborhoods not mentioned above may be considered for additional tribute applied towards travel and deposit, contact me to inquire.)
Screening & Privacy:
Screening is mandatory for all new clients. For reasons of personal safety, I ask for your real life information to verify you are who you say you are and to make sure you have a clean record with other providers. Your privacy is of utmost importance, and I will never compromise your confidentiality for undue cause. All screening practices will be carried out with great discretion.
Screening information required:
Full legal name and Photo of your Government issued photo ID. (I will also check ID before our session)
and one of the following:
Provider References: References from at least 2 well established/known providers that you have seen within the past 2 years with whom I can verify.
Current employment info: (You need a strong online presence with said established business, or a discreet call will be placed through to you at a well established place of employment).
If the above mentioned tools are not sufficient to verify you than I may ask for some additional information and/or ask to meet for the first time in a public setting.
How to contact me:
Before contacting me, please be sure that you have read all of the information available on this listing or on my website. I have tried to include most of the information you would want to know as far as how booking works with me, what the requirements are and what an appointment is/and is not, etc. If you are in agreement with everything you have read and feel we are on the same page, then great! let's move forward.
If you have questions that were not answered feel free to inquire for clarification. Please keep in mind that I won't answer questions of an intimate nature or go deeply into session details. I also won't respond to impolite, incomplete or intrusive inquiries. Logistical type questions; however, are always welcomed.
If you'd like to get started booking an appointment, please either go to my website, Layabrett.com and fill out and submit the inquiry form there or email me.
When contacting please include:
your name
a brief introduction
what you'd like to gain from our time together
the dates/time that you would like to book
how you found my website, whether it was through an ad or search engine, etc.
optionally, you can also include: Your experience with similar types of services and any other details about yourself or your sessions you'd like to share.
to speed up the booking process you can also include your screening details.
Expectations
The Logistics:
Please offer tribute upon arrival. If We are meeting at your home or your hotel, the tribute should be placed inside an unsealed envelope on the restroom counter. If we are meeting in a public setting or at an incall location, please have tribute placed inside something so that you are able to give it to me discreetly.
I do not accept credit card. I also do not carry cash with me, so I will not be able to make change; please prepare ahead of time.
Cancellation/Late Policy:
I will confirm our appointment the day of.
Cancellation Policy: Booking deposit is non-refundable. I will be holding that time specifically for you on my calendar instead of working or scheduling other endeavors. In the instance that you are not able to make the appointment, please let me know as soon as possible. If you give 24 hrs or more notice we can do a reschedule. In the instance that I am the one that has to cancel, you will have the option to reschedule or have your deposit returned to you.
Late Policy: Please be respectful and be ready at our scheduled time. If you are not available or are not answering your door/phone, I will give it a few minutes and a couple of tries, but after that will consider you a "No show".
Additional Information:
No guests, friends, partners, parties, etc. present while we are in session. I work on a one-on-one basis with gentlemen only.
I reserve the right to terminate the session at anytime without refund if I feel I am not being respected or my safety is being compromised.
Cities
CATEGORIES Body Rub, Tantra

OUTCALL Brooklyn, Manhattan, Queens