+

A beautiful testament to the magic of female form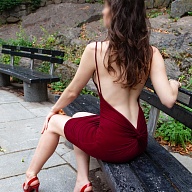 Pause. Take a deep breath… Time stops, no-thing exists beyond this moment.Eyes to the sun, feet in the sea…
Press play.
Our lives are oft so demanding that we forget to take a moment to breathe, to play and relish in this pleasure body. Take a sip of water, lubricate your lips; quench that thirst, roll into a joyous laughter; this body is electric.
The cup is half full, let us fill it up. Savor each sip like a token of gratitude; just for our very being. I am. I will. I do.
Shall we?
My name is Katelynn Astor, but they me Firefly. Your bright light, lady of the night. Magical, mischievous and quite the delight… Down to earth, yet quite confident and eager to share my best self with you.
I call NYC home, but I'm a country girl at heart. Both charming and sassy wrapped up into a classically beautiful package. An endlessly curious, bold and adventurous spirit, I seek the various perspectives and worldviews this life has to offer with a bigger picture consciousness. Warm and open, I embrace differences and believe in the pursuit of joy as the ultimate success story.
I'm a professional wild woman, yet always a lady; with an inner radiance, that knows no bounds. Something that you will see and feel in my presence.
Speaking of sight and sensory. I'm a classic beauty with a starlet face; rich fiery brown eyes, framed by chestnut waves. My milky soft skin is supple, this toned architecture is statuesque and graceful, standing 5'7 with long limber legs leading to perfectly manicured toes.
Lets not get too lost there, this is an adventure and your gluttony awaits. Whether you seek simplicity or extravagance, your indulgence begins with me. We can collect passport stamps & Michelin stars or forage and cook up our own delicacies. We can paint the town red, or stay in, sating our senses over wine, whiskey even tea, basking in each other's after glow.
Come create with me.
The Look
Firefly is a 5'7", slender, 28 year old caucasian woman with long brunette hair and brown eyes.
She is available for Male only.
Interests
I love making new friends and look forward to our future adventures.
I welcome suitors of all types, this is a judgement free zone. The exception, I only see gentlemen.
If you want to pass the test and I assure you, you'll be thrilled when you do.
Please provide the following when contacting me.
Your legal first & last name
Phone number
Your screening information:
Your Gov't I.D and a respectful introduction is the best way to get my attention
Two recent references including the name, email, and website of the providers you have seen within the past 6 months. Or a P411.
If you do not have recent references within the past 6 months you can send your employment verification information. (Work email, work website, business card, LinkedIn)
The easiest way to set a date is to follow the instructions on my website booking form.
Expectations
Upon arrival please place my gift in an plain, unsealed envelope in clear sight. Please be sure of its accuracy as I will not discuss the envelopes contents in any way.
1HR. 800
1.5. 1000
2HR. 1400