+

Go beyond the ordinary…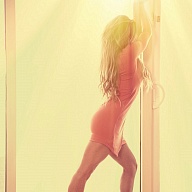 Even among the best, I stand alone.
The Look
Fiona Fairmont is a 5'4", slender, all natural, 25 year old caucasian woman with long blonde hair and blue eyes.
She is available for Men, Women, and Couples.
I am a lover of beauty, art, and the sensual aesthetic. If I had to pick one word to describe myself, it would be passionate. I am exceptionally passionate about everything I do, in particular sensual bodywork. Because of this, a session with me will be unlike anything you have ever experienced. Allow me to elaborate.
Imagine yourself in a candlelit room. I place my hands on your skin. Slower than you think is possible, I stroke your body, bringing your awareness to every subtle movement of my hands. Time begins to slow down. You become aware of the space between each second as it passes. Breathing deeply, you begin to feel connected to yourself again, then connected to me. Our energies intertwine as I bring you to a euphoric sense of calm and well being.
Above all else, my sessions are about awareness and connection, so I move impossibly slowly in order to heighten your awareness moment to moment. You will never feel anything rushed or inattentive in my touch, and you will never feel any less than 100 percent of my focus is on every inch of your body.
Although I have a warm, congenial personality and I love to talk, you'll find me not initiating a lot of conversation once we begin. It is this internal stillness that allows me to truly connect to you. I am listening to your body with my hands, allowing my intuition to guide me where I need to go.
On a side note, three is a subtle backdrop of shyness in my personality. If you wish to see it, give me flowers or pay me a compliment. I'm liable to blush, smile sheepishly, and look away.
Interests
Some reviews from my happy clients:
"When I arrived at the door and walked into the location I now know as Paradise on Earth, my eyes grew wide and my heart raced, because Fiona simply took my breath away. Her website pictures were but a pale shadow of what stood before me in the flesh."
"Looking into the most beautiful blue eyes imaginable, and being bathed in the warmth and glow of that warm but sexier than anything smile, I didn't want this to ever end."
"I can unabashedly say that Fiona gave me one of the best massages I've ever had in my life. Even when compared to the priciest masseuses at luxury resorts around the world; I think [s]he blows them all out of the water. Yes, she's that good."
"…she is the absolute best at what she does…"
Expectations
Signature Body Rub ~ As a CMT, my signature body rub is the be all end all of sensual massage. I incorporate Thai, Swedish, and Shiatsu techniques into the session. 250/45 min; 300/60 min; 350/75 min; 400/90 min
Body to Body ~ This is undoubtedly my favorite type of session I offer. I soak my entire body in natural, unscented oil and use my entire body to massage your entire body - even my feet! As a classically trained dancer, my strength and flexibility truly come into play. To add fetish requests to this service, please add 100. 450/60 min; 520/75 min; 580/90 min; 650/105 min; 750 120 min
Bondassage ~ Bondassage is a beautiful marriage between sensual bodywork and BDSM/kink. It serves as a wonderful introduction for those interested in experimenting with their kinkier side, as well as a fantastic alternative to the traditional dominatrix and dungeon. This is the ideal session for those that feel they need to give up control to truly relax, or those looking for something completely different. 400/60 min; 450/75 min; 500/90 min; 550 105 min; 600 120 min
"Bondaslide" ~ This session is my inventive way of combining the Body to Body massage with Bondassage. 600/75 min; 700/90 min; 800/105 min, 900/120 min
The Diamond Body Rub Experience ~ This session is for the individual/couple with 2 or more hours to spend on pampering. I begin with a full signature body rub, then move us for a full body to body massage, and conclude with a hot towel massage enhanced with your choice of essential oils. The session is done in a VIP suite equipped with sparkling water and your choice of red or white wine. 650/120 min
Fetish Fantasy ~ This is my creative way to integrate sensual body rub and fetish requests. These can include but are not limited to feet, role play, tie and tease, sacred massage, age play or anything else you may have in mind. 400/60 min; 450/75 min; 500/90 min; 550 105 min; 600 120 min