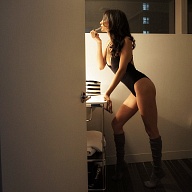 The meeting of two personalities is like the contact of two chemical substances; if there is any reaction, both are transformed.
-Carl Jung
The Look
Brooke Nichols is a slender, all natural caucasian woman with medium length brunette hair and brown eyes.
She is available for Men only.
Hello! I'm so happy you found your way to me. I don't believe in coincidences; certain energies are just meant to commingle.
Maybe you found me because it's increasingly challenging to connect on a level deeper than the superficial. After all, our lives are dominated by scheduling, obligations, and personal and digital entanglements. And as much as technology makes our lives easier and broadens our reach, it also creates a void that our spirit just can't ignore.
Maybe you found me because there is one thing our modern age has yet to convincingly replicate- the human element. There's simply no replacing the way your eyes brighten at the sight of a beautiful, statuesque lady; the way your heart jumps when you steal a glance at her explosive smile; the way your whole body ignites with a single touch of her skin.
I'm that lady- one part gamine muse, one part experiential enigma, one part effusive vigor, shaken or stirred to your delight.
I find joy and excitement in even the most simple of pleasures. I am equally enthusiastic spending a quiet evening feasting on each other as I am venturing out for a moonlit soiree. Regardless of our setting, you will find my presence authentic, joyful and enchanting.
Destiny, karma, the Universe- call it whatever you like- can guide you so far. Only you can take the next step in pursuit of what stirs your passion. Is that moment finally here? You're the one who knows for sure. But I hope to find out.
Interests
I love to read, mostly novels, but I also enjoy historical nonfiction. I have a collection of coffee table photography books and my favorite is Herb Ritts' "Notorious." I fancy myself a remnant of a fargone era; I enjoy burlesque performances and study the history of the erotic arts. Although my aesthetic palate is somewhat unconventional, I have quite a diverse and elegant wardrobe to suit just about any occassion. You needn't worry about me showing up anywhere in a costume- although, I can always bring some along for play.
Expectations
1 hour … 1000
90-minutes … 1400
2 hours … 1800
3 hours … 2500
4 hours … 3000
Screening is required for all new friends.