+

America's #1 Male Dating Professional for Women, feat. on A&E Television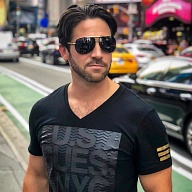 "…we might take the blue of midday and the black of midnight and be cast off and escape from here and now." -Virginia Woolf
Visiting New York City: November 5th - 20th
Troy's National TV feature on A&E Television as America's premier male dating professional for women: www.datetroy.com/media
—-
I'm Troy Amistadi, international dating professional and relationships expert for women. A traditional gentleman with a modern approach to dating, providing a close personal connection, joy, comfort, happiness and companionship to your life is my greatest passion.
Caring, dynamic, loyal, chivalrous and adventurous are just a few of the core ideals that would best describe me. I genuinely enjoy the company of others and those who know me praise my reputation for amicably treating everyone with the highest level of dignity and respect with no judgments.
Whether it's just meeting for an afternoon coffee or for a week-long romantic escape, I offer the perfect date experience you've always imagined, tailored just for you.
The dating and romantic relationship you've always wanted is yours to have, with me, your perfect gentleman, entirely on your terms. Enjoy the dating experience that enlightens and exceeds your greatest expectations.
I'm available worldwide and at your convenience, anywhere you want us to be. Reach out to me and let's get acquainted! I truly cannot wait to meet you.
—
Interact with me: www.twitter.com/TroyAmistadi
Bookings: www.datetroy.com/datetroy
A&E Documentary: www.datetroy.com/media
The Look
Troy Amistadi is a 6' 37 year old caucasian man with long brunette hair and brown eyes.
He is available for Female, and Couples.
Interests
Fitness
Travel
Philosophy
Psychology
Cultural Experiences
Cooking
Marketing
Law
Yachting
Golfing
Investing
Women's Advocacy
Wine
Expectations
The first step to scheduling a booking with me is to fill out my appointment request form.
I will respond to your request on my availability for your requested date(s).
If I am available for the date(s) you've requested, we are pre-booked.
After the pre-book, the week of our scheduled booking, you must contact me to confirm the booking for us to be officially confirmed for our booking.
A deposit may be required for new friends or multi-hour bookings
If a booking is confirmed and cancelled within 48 hours of the booking date, a deposit will be required for a subsequent rescheduling.
Any following cancellations within a 48 hour period will result in a forfetiure of the deposit.
If you give a deposit for your booking and cancel previous to the 48 hour period before the booking date, your deposit will be applied to a rescheduled booking.
Any and all communication between us will be done via email prior to our experience.
The day before our booking I will communicate by phone with you via text or call only to confirm my arrival or other details required.
I respond to emails within 48 hours, barring an exclusive engagement or being unavailable, which is specified on my calendar page. If you do not receive a response from me within that allotted time frame, it is either due to an extenuating circumstance or the nature of your email is not appropriate or void of necessary details.
All considerations must be presented in cash or a funds transfer.