+

Friendly, hedonistic, bohemian minx.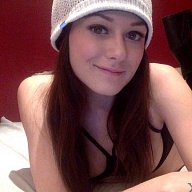 A sweet and cuddly enigma.
The Look
Astrid Stone is a 5'4", slender, all natural, 25 year old caucasian woman with long hair and hazel eyes.
She is available for Men, Women, Couples, and TV/TS.
Perhaps you have seen me in the light of day. I am the young woman weaving between you and strolling tourists, speedily aiming for the subway.
A little out of place in Manhattan, and obviously catching a train back to Brooklyn. You notice my heavy Doc Martens falling onto the sidewalk and an armful of books. Hidden by dark sunglasses, you do not get to appreciate my large hazel eyes that turn green in the sun. Certainly you wouldn't catch a glimpse of my lovely smile as I attempt to march through the crowd. You may be lucky enough to notice my long, slender legs, my small and shapley rear, or my tiny little breasts presented without a brassiere. (Very lucky indeed.)
You would never know that by night, I let my hair down and become a goddess of the city. I slip into my little black dress and become a self-aware, sensual mistress whose only pleasure is to give you pleasure. Where that pleasure comes from is up to you.
It could be the feeling derived from running your fingers over my smooth, silky skin. It could be he warmth in your chest when you are able to truly connect with another person through words and emotion. It could be the pride of having a beautiful, interesting young woman at your side.
Pleasure comes in many forms.
Interests
political history
beach trips
dark music
sociology
documentaries
non-fiction of all sorts
obscure producers
dancing
urban exploring
living fearlessly
Expectations
NYC 60 Minutes: 500 / 90 Minutes: 750 / 2 Hours: 900
PGH 60 Minutes: 400 / 90 Minutes: 650 / 2 Hours: 800
Scheduling An Appointment
If we have never met before, screening is required before we begin correspondence. Please take the time to fill out and send me my appointment request form. The form can be found below. If you do not yet have a specific date in mind, simply state so.
Screening can be done by either provider reference or workplace verification. I do not accept whitelists, okays, etc.
Appointment Booking Form
1) Name:
2) Age:
3) Location:
4) Employer:
5) Mobile Phone:
6) Email:
7) Date details: [date, time, length, in or out]
8) Referral based screening: [Provider reference]
9) Workplace screening: [Only needed if 8 is left blank. Contact me for details.]
Scheduling Appointments Over Two Hours
For appointments over two hours, a deposit must be made for the session to be confirmed. Deposits are 25% of the total for the entire session. You can send me the deposit via PayPal cards and Vanilla Visa cards. (PayPal cards preferred.)
Canceling An Appointment
Previously confirmed appointments are subject to a 50% cancellation fee if cancelled within 48 hours of the appointment. Cancellation fees are accepted the same manner as deposits. (See "Scheduling Appointments Over Two Hours".) If you refuse to pay the fee in a timely manner, you may not schedule any future appointments with me.
Etiquette
For incall appointments… Please excuse yourself to the restroom upon arrival. Make sure that your hygiene is adequate. Leave my donation in an envelope somewhere within plain sight.
For outcall appointments… Please leave my donation in an envelope in the restroom in plain sight. After arriving I will excuse myself to collect it.