+

Doesn't Everyone Love a Full-Bodied Red?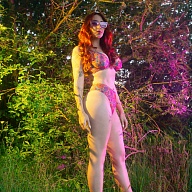 "The real voyage of discovery consists not in seeking new landscapes but in having new eyes" Marcel Proust.
We stare at a fire because it flickers, because it glows. The light is what catches our eyes, but what makes a man lean close to a fire has nothing to do with its bright shape. What draws you to a fire is the warmth you feel when you come near.
‍
Let me tell you something, this life I lead is the life I've always dreamed: to practice in The Art of Love. Exchanging love letters from the corners of our eyes across a crooked bar table; tracing flirtations along our cocktail glasses, wondering what's to come. The electric and hypnotic quality when two strangers become something deeper, like when leaves take on the first shimmer of color in Fall.
Sweetest are my intimate impulses. What I veil with my language, my body utters. And never will you forget the shape of it and the way I move, rolling on the balls of my feet all swing and curve like a big cat. Thrilled mischief ever-present in my eyes. The red, ripe plum of my mouth.
‍
A charismatic poetess with a resonant laugh, I come from a world where excitement isn't taken to be a reverse indicator of intelligence, where it's normal to mention Cocteau and belted kingfishers in the same sentence. Though hardly pretentious, I carry within me an orchard of experience, ripe with opportunity. I'm known to look for the chance to join the lines of a poem to a conversation seamlessly, which is a very fancy way to say I'm well-read. No one would be surprised to catch me up at ungodly hour writing poems in a fervor.
And isn't every poem for someone? Why not you?
The Look
Zoya Ferrante is a 5'9", curvy, 28 year old caucasian woman with shoulder length red hair and hazel eyes.
She is available for Male, Female, Couples, and Trans.
Interests
I've fed my brain with continued studies. In undergrad, I studied French literature (mais oui, je parle!) and carried on to receive an MFA in poetics. I feed my soul through travel, communing with nature, making art, cooking and sharing meals with loved ones over candlelight. I kindle my fire by dancing late into the night, getting my hands dirty, and meeting new people. One of my greatest joys is finding ways to celebrate others.
Expectations
With enough notice, I can always be available for you. I've a lovely loft on Capitol Hill. Outcall is available upon request.
For booking—please include at least one reference as well as their contact information/time you saw them. You may also share a photo of you holding your ID, Linkedin Profile (with photo), or business website.
General questions regarding schedule are permitted, but crass and inappropriate messages will be ignored.
Donation Information:
1 hour 600
90 mins 900
2 hours 1100
3 hour Cocktail Date 1600
4 hour Dinner Date 1900
6 hours (perfect for a full daytime or evening thrill)- 2300
Overnight (6-8 hours of rest required)- 3500
24 hours 5000
Couples200/hour
Outcall 50
For bookings longer than 24 hours, please inquire.