+

Irish Fire: Sweet, Curvy, Smart, and Earthy Redheaded BBW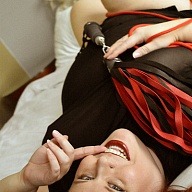 Kiss slowly, play hard, take chances, give everything, and have no regrets.
I'm highly intelligent with a silly streak. I'm compassionate and kind and snarky. I believe in science, logic, myth, and magic.
I have a quick wit, creative soul, and a deep calling to help my fellow humans. I am a trained bodyworker, priestess of Aphrodite, and somatic relationship coach. I hold a B.A. from UW, but after an eternity in the corporate world, I decided to explore the world of somatic healing. I'm now a somatic adult educator, realtionship coach, and sacred healer.
My current work requires me to hold space for people striving to heal from trauma, reconnect to their sacred selves, or improve their relationships with themselves and others. It's both exhilarating and exhausting work where people begin to own their beauty and embrace their shadows.
I'm into hardcore, full-frontal nerdity. Typically, you'll find me spending of my free time reading, immersed in sci-fi/fantastical books when I'm not geeking out over Dan Siegel's cutting-edge research on interpersonal neurobiology or theories of somatic trauma. I prefer the MCU to DC, refuse to acknowledge the existence of Star Wars Episodes 1-3, and can reference an embarrassing number of memes, song lyrics, and bits of British humor. I firmly believe in the Oxford comma and see Michael Valentine as my role model for kissing.
Like most Geminis, I've pursued many passions. I've scuba dived with sea lions in Cabo san Lucas, danced at Renaissance Faires (in a corset, of course!), created masquerade masks and costumes, written poetry, been owned by cats, competed in several triathlons, and done karaoke stone cold sober (it was terrifying). I identify as an INFP, if you find the Myers-Briggs a useful tool, and as a Ravenpuff if you prefer Pottermore. I'm a bibliophile, an omnivore, and prefer my chocolate dark, my vodka iced, and my rum spiced. I've traveled to Europe, Canada, and Mexico, and loved them all.
The Look
Tabitha Rose Bennett is a 5'6", full figured, all natural caucasian woman in her late 40's with medium length auburn hair and green eyes.
She is available for Men, Women, Couples, and TV/TS.
Interests
As I mentioned above, my main interests are reading and expanding my toolkit as a companion, coach, and healer.
I love books and spend far too much time with my nose buried in my Kindle…which I recently managed to crack *cue sad face*.
I listen to fairly eclectic mix of music, from Baroque- and Renaissance-era classical to Miles Davis, Lionel Hampton, Pusifer, Deya Dova, Annie Lennox, and Tori Amos.
All of that has been pushed aside by my current raging obsession with "Hamilton: An American Musical." I've got roughly 83% of the soundtrack memorized, and was lucky enough to score tickets to see it here in Seattle. You know those "what would you do for a Klondike bar?" commercials? Yeah…I would do a LOT for another chance to see Hamilton live!
Expectations
I'm easily reached via email (see below) or text. I do my best to respond quickly to emails, texts, or calls.
When Scheduling an Appointment
Please avoid any explicit language via text, email, or private message. I am a healer, a companion and a confidante, a queen and a coquette.
Location and Amenities:
My private South Seattle space is clean, warm, and beautifully appointed. I have a massage table, full bath, and king-size bed, plus lots of space for activities. If you want to walk on the wilder side, ask me about my 7-foot steel cage and St. Andrew's Cross.
Available Hours
I require a minimum of 2 hours advance notice (and I prefer at least 24 hours) before booking an appt, although I can often accommodate requests with less lead time. It never hurts to ask, particularly if we've met before, and the rewards are well worth it.
I'm typically available Mon-Fri from 9am-7pm. Other times may be available with prior arrangements, so please feel free to ask!
Pre-Appointment Screening
I am delighted to meet new people, and I do screen new clients. Please be ready to share either provider references or other bona fides before our first meeting.
A third option is to meet for coffee, a meal, or drinks in public to establish rapport and trust. The rate for these initial meetings is $100/hour (with a 1-hour minimum), plus any food, drinks, travel expenses, or other incidentals.
Contact Info
Contact
Information
Add Tabitha Rose Bennett to...