+

Heart Opening Connection - Tantra Massage with Luna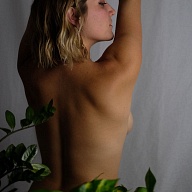 "I believe that in ecstatic states and deep relaxation we can charge our bodies to become more whole in ourselves, body, mind and spirit."
Hi I'm Luna and I am an fun loving, intuitive tantrika and masseuse who is present, attentive and sensational. I appreciate openness, and strive in all of my sessions to be as authentic and heart centered as I know how to be. My sessions aim to connect you deeper understanding of yourself, your power and your pleasure.
Would you like to feel more comfortable in your own body and at ease in your daily life?
Do you want to experience absolute and utter b l i s s and relaxation today?
I am a multifaceted woman with so much to bring to the table. I am warm and loving, excited and light, full of wisdom and open to fully embracing life.
Tap into the love vibration and find easeful connection to your light as you drop into the feeling of warm touch, warm oil and breath on skin.
Allow yourself to receive my gifts - deeply healing body work combined with comfortig flow and energy that is completely attuned to you, your pace, body and soul. I am here to create an experience for you that is as transformative as it is relaxing and rejuvenating.
I am a tantra practitioner who has studied the healing arts through sensuality and expression for years, and my studies have brought me all over the world.
Come find peace and relaxation in the hands of a beautiful, empowered woman.
The Look
Luna Rose is a 5'8", slender, all natural, 26 year old caucasian woman with shoulder length blonde hair and hazel eyes.
She is available for Men, Women, and Couples.
Interests
I am deeply interested in what makes each person an individual. I love to drop in deeply with someone and experience the authentic sides of another person. I like the experience of being real, present and alive. I love to talk about our lives and dreams, and have a deep love of music, art, travel, nature and all things metaphysical. I am an empath and love hearing people's stories. You can trust that I am a safe person to open up to if you so choose. Sometimes all we have to do is talk to start moving things we hold in our bodies that might be manifesting in other areas of our lives. I love helping others connect to deeper parts of themselves, and find that our light shines brightest when we are in a deep space of love for ourselves.
I love giving and receiving massage and authentically being present with all whom I meet! I like to gaze into each other's eyes, enter into deep conversation, and put aside all cares or worries so as to be fully in each moment. I am interested in genuine connection and being real in each other's presence. All is welcome, and I strive to show up as authentically from my heart as possible in everything I do.
I love being treated like a Goddess and treating you like the King that you are.
Expectations
ATTENTION: IF YOU DO NOT RESPOND TO THESE QUESTIONS YOU WILL NOT GET A RESPONSE FROM ME! Thank you!
To book a session please send me a TEXT to (619) 375-3137 with:
To book with me please send a
TEXT MESSAGE ONLY to 619-375-3137 with…
1) Your name
2) experience with tantra or FBSM
3) short bio (interests, job, relationship status, whatever!)
4) time/date you'd like to book.
5) Mention Slixsa so I know where you found me!
6) city you are in
I will only respond to messages with this information
Phone calls will not be answered upon first inquiry.
Sesion times are
60 minute. 350
90. minute 450
2 hour 600
2.5 hour
3 hour
In order to drop in the way I know we can, for our first session I strongly recommend a longer session. Tantra takes time.