+

Bountiful pleasure. Bountiful love.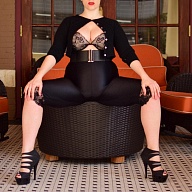 "Life is always a rich and steady time when you are waiting for something to happen or to hatch." – E.B. White, Charlotte's Web
What brings you to me?
What has your interest piqued to spend luxurious time in the presence or arms of a sensual pregnant woman? Do you want to feel like the protector/provider - keeping her safe, warm, fed, and comfortable? Maybe you crave to be close to the creative spark of the life force or worship at the altar of the goddess. Or maybe the thrill of something taboo brings you to me. Do you want to get away with something - to feel like you've trespassed in another's garden? Or is it the warmth and comfort of a nurturing touch? Curious for something extraordinary? Eden welcomes you.
I am in my mid thirties and pregnant with my first child. I have captivating blue eyes, a warm - if somewhat mischievous - smile, and a mess of curly red hair. I'm playful, kind, and truly love my time spent with generous people seeking to add something extra special to their day…or life. My life has been thus far full of joy and adventure and look forward to sharing that spark with you.
9 Weeks Left…?
This unique experience is available for a limited time. To ensure I have energy and enthusiasm for every friend, I limit my number of engagements per week. I can not promise I will be available for the entire duration of my pregnancy.
The Look
Eden is a 5'7", curvy, all natural, 35 year old caucasian woman with long red hair and blue eyes.
She is available for Men, Women, Couples, and TV/TS.
Interests
Witnessing the beauty of humanity. The depth of connection that can be made with a stranger if you are both willing. The breadth of pleasures our brilliant minds can concoct. Losing oneself to the intensity of the moment. Adventure. Travel. Secrets.
Rubs and pets, especially my butt or feet. I love flavored seltzer water (the kind with no suagr or fake sugar or anything but natural flavoring added). Nutrition and exercise. Performing arts. Obviously, pregnancy has been a keen interest of late.
This one is new, but I'm starting to blog! https://www.bountyofeden.com/blog
Expectations
PLEASE READ MY WEBSITE - INCLUDING RATES - BEFORE CONTACTING ME. THANK YOU.
I am a real, live, pregnant woman who is caring for this body as a temple. I do not smoke, drink alcohol, or take drugs. I employ safety practices with my partners and do not engage in any activities that cause me pain. I will be vocal about my energy and comfort level. I'm a very vocal woman.
​
As I am compensated for my time, let's keep our email exchanges to the point of booking, and share juicy details in person. You may mention fantasies you have, but I do not offer any services for money. Money paid is for my time only. Rates are firm, listed on my website, and do not need to be discussed. Please leave your tribute for our time together in an unsealed envelope on the counter when you arrive.
​
Appointments begin and end at the times agreed. Please schedule more time if you'd like to linger. Cancellations are expected with 24 hour notice. A second last minute (within 24 hours) cancellation requires payment of 50% of the missed appointment fee to book again.
If you'd like to bring me a treat to eat, please keep it to organic fruits, whole grains, or pasteurized cheese. I am not eating sugar or white flour.
​
You may have heard pregnant women have a sensitive sense of smell. It's true! Please be freshly showered or use my shower when you arrive and please refrain from wearing strong scents or chewing gum. I also have mouth mash and new tooth brushes on hand for your use. In kind, I will always be freshly showered, teeth brushed, and do not use perfume or scented oils.
​