+

My Gift is a Real Human Connection, with Intuitive Hands and Heart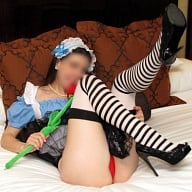 Welcome to the Seattle Sensation, where the language of the body is spoken and our human, personal well-being is answered!
Extensively reviewed on multiple boards in the Pacific Northwest, my practice has fifteen years of development accompanied with an immaculate reputation. My gift is a real human connection that will balance your energetic well-being, fill you with life otherwise thought lost, and leave you with a peaceful smile to take and keep for all your days on end.
My studio facilities are top-notch, premier spa-like accommodations that take discretion, health, safety, and sanitation to new levels. No stone is left unturned for your safety and comfort, both in and out of my presence; and this includes my digital communications security and protocol, which are designed to keep your most personal endeavors confidential.
I practice an ongoing education in the tantric arts and use reiki and chakra-based energetics as the foundation of my exercises. It would be a rare find, indeed, to encounter anyone who is more in-tune with your presence and state-of-being.
I am a consultant in matters of lifestyle and personal well-being. I have a very extensive background in the field of medicine, but have chosen to pursue an alternative approach to a similar end, one that attends to the mind, body, as well as spirit. I have been on a lifelong internal path of philosophical exploration, while combining an intuitive sense of one's self, experience of touch, and nuance of interpersonal relationship in a profoundly effective way. I tune into the Language of the Body, its muscles, breath, and mind, and attend to what it says directly, joining it in the dance of life as we speak to each other without the burden of words. This dance envelops me as every sigh and muscle, is released from its inevitable tension. It is, indeed, a natural expression of self for me; it is, ultimately, who I am, not merely what I do! When a session is over and I know that I have contributed to a full sense of well-being and serenity, I am at peace. It leaves me feeling warm and whole.
The Look
Alice Carroll is a 5'4", slender caucasian woman with long brunette hair and brown eyes.
She is available for Male, Female, Couples, and Trans.
Interests
Italy in the summertime: watching an outdoor performance of "La Traviata" while drinking Presecco from a plastic cup… Spain and a glass of freshly squeezed Valencia orange juice… Listening to the Beatles (love you, Paul!)… Watching "My Neighbor Tortoro" (or other anime), Kung Fu themed films (especially the old, cheesy Shaw Bros. movies!), and, of course, a good romantic comedy (usually as a prequel to other activities! Mmmm…) Writing with fountain pens, healthy living, eating, and excersise! Reading a pop-up book of "Alice in Wonderland" and marveling at how amazing life is! I also love reading, especially science fiction and fantasy like Frank Herbert's Dune (finally, a fantastic film!), Orson Scott Card's Ender's Game (a not-so-great film), as well as anything written by Anne McCaffrey. I occasionally like horror, such as Stephen King, and have been known to read a romance novel, when I'm not living in one! Most of all, though, I love to be with friends, new and old! ;-)
Expectations
Please see my website for schedule. It is updated in real-time!
Screening is absolutely non-negotiable for first time visitors! (See website for details.)
The "Session Information" page on my website details available sessions, donations, and policies.
A 24 hour cancellation policy applies to all booked sessions!