+

Austin Adorable :)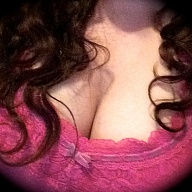 "If you never did you should! These things are fun and fun is good!" - Dr. Seuss
I've dabbled in the hobby off an on for a while but only recently returned after a four year hiatus. I'm refreshed and definitely looking to make new friends. At the risk of sounding like every provider attempting to come across as sophisticated I'll admit that I enjoy reading, modern art and (albeit to a lesser extent) philosophy. Just so we're clear, I drink more than I should and curse fairly often so please don't think I'm claiming an interest in nerdy stuff out of some fanciful desire to be viewed as an intellectual. I'm just the girl with big boobs from the trailer park that wants to see how the other half lives.
These profiles usually seem a bit forced and to be honest, I'm a bit too laid back to be much of a salesperson…so please just get in touch and let's see if we have any chemistry.
The Look
Leah Layada is a 5'7", curvy, 33 year old caucasian woman with medium length brunette hair and blue eyes.
She is available for Men, and Women.
Interests
My favorite author is Fyodor Dostovesky but my favorite book is "Man's Search for Meaning" by Viktor Frankl. I also love Dr. Seuss and Mark Twain. If you're shy and just want to get me started talking about something you can't go wrong with Russian literature or any of those stories from the supermarket tabloids about Bat Boy or a reptialian race of aliens that has taken over our government.
My favorite foods are meditaranean or breakfast foods. I also love Godiva truffles.
My favorite wines are dessert wines…especially Eiss/ice wine from Germany or Canada. Moscato is yummy too tho! I don't drink beer…even the hipster varieties.
I'm primarily interested in not being an asshole and finding other people that share that interest. :)
Expectations
I'll be nice and act like an adult with a modicum of common sense, you do the same and we shouldn't have any issues.
Please pay full amount owed in cash discreetly within the first 10-15 mins of our time together…if you make me ask for it that puts things on the wrong foot. Best just to get that part of the way.
If something happens and you need to cancel our date please at least send me a gift card to Sephora or Amazon so I can be assured you recognize I'm an actual human that set aside that time specifically for you. It will go far in aiding your ability to resschedule with me.
Oh and not to sound like a primadonna but I don't smoke and the smell REALLY grosses me out so please don't do it around me.
Any questions, please just ask!