+

Beautiful Beguiling Bewitching Blonde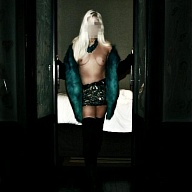 Not all who wander are lost.
Beautiful sultry blonde minx who is undeniably addicting and electrifying for all of the senses.
Beautiful face, deep cerulean blue eyes, long silky blonde hair, curvy apple bottom bootie who possesses a potent mix of elegance, grace, passion, style, integrity, with a high dose of intelligence, creativity, humor, imagination, playfulness, adventure, and breathes and lives in a world of absolute sensuality. My warmth will draw you in, while my genuine wish for a true connection will keep you bewitchingly enamored.
I am a deeply private and respectful person, who honors complete discretion. My only wish is to bring you a bit of respite from the daily din of stress, elevating your level of joy, and bringing you to a place of calming serenity with a dash of laughter.
I think that, if you are a man of depth, humor, intelligence, over the age of 40, you will find that you have met your match in me and that this will be a meeting of substance that you will wish to return to often.
Now for the details;
Over 35.
Caucasian
Blonde
Blue
5'5"
135#
36C
LOL, did I mention beautiful?
300 hr
500 2 hrs
600 3 hrs
When writing please include your name and number, as well as a bit about yourself. Preferably from a work email.
I truly look forward to meeting you,
Adoringly,
Sabine
The Look
Sabine Savas is a 5'5", all natural, 38 year old caucasian woman with long platinum hair and blue eyes.
She is available for Men only.
Interests
I would say that I am somewhat of a Renaissance woman, with a curiosity and passion for a wide variety of interest, everything from sailing, equines, politics, history, finances, world travel, and meeting new friends who make my heart skip a beat.
Things that make me break out in smiles: Exploring Atlanta, new restaurants, in particular independently owned over big chains. Wine and booze tastings. I love spending the day at the Aquarium. The beluga whales are my favorite. There is just something so calming, yet joy provoking about them. One of my other favorite ways to spend an afternoon, besides spending it with you, is taking one of the many classes that can be found in Atlanta on everything from learning how to make Baklava to creating art and attending the music and art festivals, love the Porche race track as well as flying lessons in Kennesaw and would welcome sharing an afternoon with you partaking in exploring all that this great city offers… including me : )
Odd tid bits of information;
Favorite movie is the Big Chill.
I love Peonies.
Favorite car is the 1964 Jaguar Mark 10.
I love numbers. They are logical and never lie.
Im a techie gadget girl.
My favorite music is Jazz, R&B and yes, I love classical.
I can tell you the prices of nearly every product on the market, and would have kicked butt on the Price Is Right. LOL.
Expectations
I have found that any man normally intrigued by my ad typically doesn't have to be told how to behave like a gentleman :)