+

Come start a fire with me.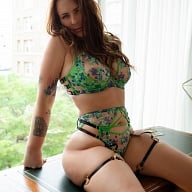 Atlanta's approachable, attainable 30-something soccer mom. Purveyor of delights & clever comebacks. Expert fire builder, tolerable dinner date.
I'm Kat, your free-spirited girl with a bit of an edgy side. From a short rendezvous in Atlanta to a long, languid weekend away, I'm really good at being your girl. It's the best of both worlds, the connection and affection at it's peak without the burdens of the time investment or typical cumbersome rules that guide relationships.
I'm tall, 5'9 with a pretty face & well-shaped curves that I wear like silk, completely comfortable in my own skin. I'm clever, funny, & can't wait to beat you at a board game. I'm competitive and it suits my personality, passionate & warm. I'm told I'm a very easy person to be with & that's a trait I wear like a badge of honor. Come as you are, relaxed & at ease, or nervous and a little tightly wound. I'll unwind you. We'll belly laugh, & make out, & feel like teens again.
I live for the graze of a hand against my leg, the "will he?" right before you kiss me, the high of skin against skin that I'm forever chasing. I'm electricity in human form, ready to make you come alive in my presence.
I enjoy a fine dining experience but my favorite meals are shared in dark corners, with my legs up in a booth as I lean forward to listen to you, comfortable, close. Take me somewhere we can relax and get to know each other authentically, or order takeout so we can snack & talk in an atmosphere that's just us. I can be a social person but I come to life when it's just the two of us, with your tie loosened & my jeans lost in a corner while I cozy up in something barely there. Tell me something new while I drape my arms over you, interrupting you for a kiss.
I'm a reveler in the simple, small things. A dive bar with good music & greasy food, a backyard fire pit with a beer and conversation, blue jeans & city walks, movie dates where we snuggle up & make out in the back of the theater. I'm a hand-holder, a road trip partner for the ages. I express most of my affection with touch, keep me close. Connections that are magic are possible here. Wanna make one?
The Look
Kat Wilde is a 5'9", bbw, 37 year old caucasian woman with long brunette hair and blue eyes.
She is available for Male, Female, and Couples.
Interests
I'm an adventurous gal up for almost anything new.
I love traveling I've visited several different countries and have so many more on my list.
I'm an outdoor enthusiast share your favorite national parks and trails with me!
Expectations
Rates are for time and companionship only
One hour $1000
Two hours $1400
Screening is a requirement for all new friends, via booking form on my website
I won't respond to any explicit conversation via phone, text, or email.
25% deposit required to secure my time in Atlanta, 50% on tour. I set aside time just for us, and there expense incurred in preparing for our date
Prebooking is enouraged, and same day appointments are usually unavailable.