+

Upscale Ebony Playmate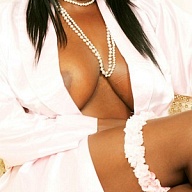 The Look
Eva Falls is a 28 year old black woman with medium length black hair.
She is available for Men only.
Beyond my intrinsic dark skin tone lies distinct characteristics that I think you will find refreshing. I am an incredibly layered individual who appreciates both the luxuries as well as the simple pleasures that life purges forth from time to time. Describing my personality is no easy task, but to give you a taste…I'm right on the cusp between being the girl next door and an intriguing woman of savoir-faire. I am a calm, passionate young woman who loves to laugh, is quick to smile, and never backs down from a challenge.
I have a fairly unapologetic and eclectic lust for life. I live day to day as a non-conformist who lets simple logic and listening to my inner being govern my life. I am socially adept and hold an Associates degree in Business - PLUS I have an awesome sense of humor…and I'm not too full of myself to show it. With coy-like feminine charms, the sashay of my hips, and the flutter of my long eyelashes, I am more than capable of holding your attention, even when there is so much else going on around us. *winks* I think you'll find that I am more candid and easy to talk to than you ever imagined. So don't be shy.
Expectations
Please allow some time for screen prior to our date.