+

Charm you from the dinner table to the…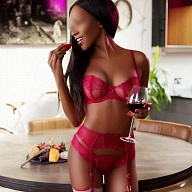 A warm welcome to you, I'm so glad you've come across me.
So let me take a wild guess,
you are successful,
you have a lot going for you.
You are no fool to beauty,
you know how to get what you want.
You are a force of nature in your world.
You are intellectually gifted, everywhere you go you are well liked and respected.
Instinctively, you take care everything… but YOU.
I get it.
We both know there is something missing…
You've found her.
Welcome to your delectable distraction.
The Look
Octavia Blair is a woman.
Interests
My passions include (but are not limited to) reading, writing, creating, exploring, travelling, mind-reading, live jazz, new resturant expereicnes.
To sum it up - If you ask me what my favorite anything is, the answer is easy: the best of the best of course! Who wouldn't? That's why I offer you best of me every time we meet.
Expectations
I cater to the type of man who seeks a true, genuine experience in which and intimacy are not a facade, but a mutually enjoyable connection. Not everyone is ready for this. Not everyone needs to be. I just invite you to consider it. I do not meet with many of those who reach out to me, but I leave this here, hoping that one day, you might read it.
I cater to gents who value a sexy mind as well as a sexy body, and to those who are bored with samey and unfulfilling experiences. I enjoy the company of gentlemen (and not-so-gentle-men!) who appreciate a fun, unspoiled lady who is ambitious, passionate, and naturally very open. I am well spoken and love to feel and be feminine, smart and sexy. I am a cultured, flirtatious date in public, but liberated and passionate in other ways.