+

Dale Bradford Personal Massage Service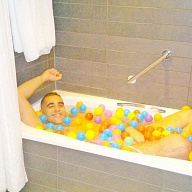 Dale Bradford Independent Gay Escort UK
.
.
Hi guys
.
My name is Dale Bradford
.
I live in Bradford near Leeds in West Yorkshire England
.
Fancy meeting a handsome, fit, easygoing gay friendly masseur based in the Bradford and Leeds area? … Then you have just found me :) my name is Dale Bradford you might have seen me around on other websites. I am based in Bradford and can travel anywhere with the arrangements made.
.
I offer a 100% private and confidential personal service. With personal services for both men and women. For in calls I now have a professional massage table which I can have ready for you to arrive. I am also using therapeutic massage oils. My massage can be tailored perfectly to suit you. Just let me know of any specific areas you would like me to concentrate on. My job is to relax your mind and soothe all your tensions and stresses.
.
- Relaxing Full Body Massage
- Professional Massage Table
- Therapeutic Massage Oils
- In Calls & Out Calls
- 100% Private & Confidential Service
.
I am here for you for in calls and out calls. In calls are available from 9 am until 9 pm in a discrete location where parking is no problem. It is best to let me know early so we can get it right. Choose the best day when you have plenty of time available. I want you to have the best experience with me. I also live very close to the train stations in Bradford. I can meet you there if you prefer so you don't get lost on your way.
.
When we do meet in town we can go to the pub before we go back to my place. I can even take you back to the station after your visit so you are safe with me. Don't let my location be a barrier for you. We can talk on the phone and make the best arrangements to suit you. To visit me for an in call you can choose the perfect day where you have the time to travel to me. Longer bookings are advised when you are travelling a long way to meet me. For out calls we can both choose the perfect day for me to visit you. I prefer to visit you at hotels for out calls where we can have plenty of time and space so you can enjoy your personal massage service.
.
I am never in a rush when I am providing my massage services. In fact I like listening to your stories and finding out about you and I love learning from you. I love it when you show me new places and teach me new things. I really enjoy spending time with you during our personal massage service. You never know when a new connection can be made.
.
I love to stay with you for overnights and companionship in hotels. We can easily arrange to meet when you are staying in a hotel near Leeds. It is nice when we meet a few times because we get to know each other more and more.
.
I like going out dining because this makes our appointment more personal and extends our time together. We can do this either before or after we meet. I know lots of places close to where I live or in town where we can go. We can get to know each other more and more and may even become friends over time.
.
My hobbies include photography and I like eating in pubs and going out places. I go to the gym almost every day I love my gym classes especially spin. I really enjoy high intensity cardiovascular training. I like relaxing in the sauna for an hour or so after a hard workout. I like to go swimming when I have a day to myself and I use the sunbed regularly to keep my beautiful glowing colour.
.
Book your massage today and let me pamper and relax you. Some time with me may be just what is needed!
.
Thank you for reading more about me you can call text or email me so we can discuss your personal requirements.
.
I look forward to meeting you
.
Dale Bradford
.
.
.
In Calls 9 am - 9 pm
Out Calls 9 am - 9 pm
Out Calls Arrange Early
Overnights At Hotels
Weekend Hotel Bookings
Long Distance By Arrangement
.
Professional & Discrete
Clean & Responsible
Everyone Welcome
First Timers Welcome
Over 60's Welcome
Disabled Friendly
.
.
Call, Text or Email
.
.
.
Search Dale Bradford gay escort on Google
.
.
.
The Look
DaleBradford is a tall 28 year old latina man with short black hair and brown eyes.
He is available for Male, Female, Couples, and Trans.
Interests
My interests include gym, sauna and swimming. I love going to the gym especially my gym classes. I do a lot of spin, circuit and hit classes. I like to relax in the sauna and go swimming when I have the time. My other hobbies include photography. I like taking and processing new photographs. I love to eat in restaurants and meet for hotel out call bookings.
Expectations
Monday — — — 09:00 — 21:00
Tuesday — — — 09:00 — 21:00
Wednesday— — 09:00 — 21:00
Thursday— — — 09:00 — 21:00
Friday — — — — 09:00 — 21:00
Saturday— — — 09:00 — 21:00
Sunday— — — —09:00 — 21:00