+

Urpixie: passionate about making each moment magical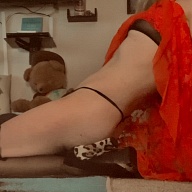 I believe what others say is futile is only such because we limit ourselves to the conceivable. I refuse to limit possibilities and will forever resign where fairy dust is sprinkled…
Life is what we decide to make it. Do you feel like you are in a rut and no one sees you for you and all your contributions. I see you. You work hard, sometimes the days seem long and the weekends so short. Exceptional companionship is hard to find. Are you looking for some who is fun, a little sassy, energetic, optimistic, adventure seeker , intelligent, creative and kind-hearted. Does it seem too good to be true to find someone to spend time with that actually poses all these qualities and more? You have come to the right place. I lenjoy adventure, and I am always willing to try new experiences or old ones with a new twist. I admit, I can be a little sassy at times, but aren't all pixie fairues a little sassy? The glass is always half full and there is always a bright side to any situation. However, if it someone who will just listen to you and care and encourage you, this pixie has a big heart and ears that truly listen. With a few master degrees complete, my knowledge base is vast (including pointless and fascinating random facts). You can take me anywhere and I will make you proud in appearance and social capabilities. If it a subject you are wanting to discuss that no one will listen to, I am that someone. I seak out learning new things, so feel free to talk with me about anything! My creative side comes out in all I do from the way I decorate to the clothes I wear, to the musicals I frequently see . I am a dreamer who sees limitless possibilities and who truly knows how to chase those dreams until they are reality. Companionship should include focused attention. When we are together you will have my full attention, no cell phone out texting or looking on social media. You will have 100% the best of me that is authentic and engaging. You deserve that and are worth that. Companionship together comes in a variety of forms from staying in and spending time together to going out on a dinner/date or that office party that you need to bring a classy lady to, or maybe it is that trip you want to take with some who is cultured and adaptable. I am all those things for you much more!
Perhaps companionship is not what you are desiring. Maybe you would like a space to distress with a massage. As someone who has spent over 10 years in the massage industry, I know how to
create the ideal atmosphere and pinpoint and tske care of those stress areas. you don't have to go to some place that random people work on you. Allow me to give you a true and holistic approach to distressing.
i look forward to joining you on a date, an adventure, a destress massage or another companionship experience. Please reach out to me today and let's start a wonderful new journey together!
The Look
Urpixie is a 5', slender, 39 year old caucasian woman with long platinum hair and blue eyes.
She is available for Male, Female, Couples, and Trans.
Interests
Hanging out listening to a cool band
triathlons
volunteer work
working out
musicals
nature
crafting
resesearch
dancing
new adventures
Expectations
Please reach out for scheduling. If you have desired time outside of the hours listed, please still reach and see if I can accommodate
hours
M-TH9am-9pm ( late night/ early morning option- just ask!)
Fri- Sat: 8am - midnight( late night/ early morning option- just ask!)
Sunday - per Request