+

38DDD+ bust, good time girl, kink enthusiast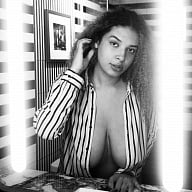 "She was free in her wildness. She was a wandress, a drop of free water. She belongs to no man and to no city."
- Roman Payne, The Wandress
Meet Lina Oaks, an au naturel good-time-girl with a touch of Pacific Northwestern girl-next-door charm.
Physically, Lina boasts an all-natural full hourglass figure that's simply squeezable. She is 5'5" with a 38G (38DdDd) bust and a big round booty to match. Regular yoga practice enhances her natural flexibility, allowing her to twist and bend in ways that most cannot. She has gilded skin that glows at the sun's touch, while her almond eyes hold a spark of mischief and adventure. When she smiles, her scrunched nose adds a playful charm that is hard to resist, and the curly hair that frames that playful smile is a testament to her untamed spirit.
Submissive in nature and dominant in attitude, Lina is a kink-enthusiastic sub-leaning Switch. She finds fulfillment in exploring kinks and power dynamics with like-minded partners.
As an artist, Lina finds inspiration in the simplest of things and works to transform them into something extraordinary. Her artistic spirit most thrives when she immerses herself in the worlds of painting, sketching, singing, and songwriting, letting her creativity flow freely from her mind, intentionally placing it into the world. Her creativity also translates into her relationships, bringing a unique flair to each encounter. Lina's curiosity knows no bounds, and she embraces new experiences with open arms. This spontaneous and quirky nature ensures that no two days are ever the same when Lina's around.
When she's not immersed in her artistic pursuits, nature is Lina's playground, and she finds herself drawn to its wonders. Hiking through lush trails, camping with her closest friends, and basking in the warmth of the sun are among her favorite pastimes. Stargazing captivates her, reminding her of the vastness of the universe and her place within it.
If you're ready to embark on an adventure filled with laughter, exploration, and endless creativity, take Lina's hand and discover the magic of a life lived to the fullest.
The Look
Lina Oaks is a 5'5", curvy, 24 year old caucasian / ebony woman with shoulder length brunette hair and brown eyes.
She is available for Male, Female, Couples, and Trans.
Expectations
20% discount for clients who screen and deposit!
Reaching Out: Booking form use is much preferred for initial inquiries. Emails and texts are responded to when possible. Please reach out again if you haven't heard back as Lina may not have seen your message.
Phone calls from unknown contacts will not be answered.
Social media is a terrible way to try to get a hold of Lina for booking as your message will most likely not be seen for weeks or months, if ever.
~
Do NOT reach out on OnlyFans or other similar sites about booking or any in-person meeting as this puts Lina's account at risk. You will be blocked without refund.