+

Babe-Next-Door Turned Provocateur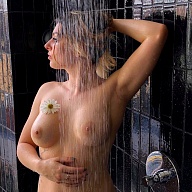 "Tracing your shadowscape
Kneeling before you my eyes feast upon Your masculinity and All its divinity
And I praise you
Because all of that is for me," lyrics from Bilingual by Chep Nunez
Take my hand as we step from your daydreams into a vivid reality we create, free to explore in the flesh… To indulge with sight, sound, touch and taste. To create a reality which surpasses imagination-only for those bold enough to make my acquaintance.
Unearth your proclivities-allow me to be your provocateur. You are my reservoir of untapped reverie-I am your virtuoso of wish-fulfillment.
When I open the door, your eyes will trace my petite 26" waist, pale skin and soft bosom. At this moment, I'll whisper "I've been waiting for you, why don't you come inside?" and greet you with a warm embrace; smiling from my bright blue eyes. The moment of our anticipation will melt into bashful giggles and a night of delight. You'll revel at my limber, curvaceous body and eyes you cannot look away from. I am told I am very open, easy to talk to and relaxed in any surroundings. I'm a quick-witted, poised, extrovert. You'll notice I exude an efervescent good mood that you will find contageous. Always down to earth and up to no good! I adore embodying a studious good gal in a pencil skirt by day and a scandalous vixen by night… nothing would suit me better, as you may soon discover. Fortune and I both favor the bold, the next move is yours.
Still Curious? Why Am I Here? You Might Wonder.
If I had to pick my favorite thing about my confidant lifestyle, it's the "blind date" experience, yet SO much better. I have been unceasingly delighted by the possibility of a genuine connection. Every time I met someone, I relish in the excitement of our "blind date", but with a far higher quality of gentleman or lady, such as yourself. I hope to meet someone who values shared time, experiences and transparency as much as I do. Might this be you? Nothing is as satisfying as someone looking for a no-strings-attached experience where we can escape from the world and be ourselves. We can relish the freedom to be honest about what we both want to enjoy together and get lost in our own world for a while. Will you join me? Start here… missavanova.com, or my twitter which I promise to use more! twitter.com/MissAvaNova
Oh… and this is very new…
The Look
Ava Nova Petite Provocateur is a 5'3", slender, 24 year old caucasian woman with medium length red hair and blue eyes.
She is available for Male, Female, Couples, and Trans.
Interests
I'm a creative, intellectual woman with a spicy side… and I don't just mean my halapeno plants. Since high school, I have been openly bisexual and delight in entertaining ladies and couples. If there is another companion you wish to see with me, I would be delighted if you put us both in touch, if she wishes.
One of my greatest joys in life is meeting new people. I'm honored to share your time and I genuinely enjoy hearing your stories and finding passions we share. I graduated with a dual degree in biochemistry and business administration and am fortunate to have continued on to a career in the later. However, I am blessed with flexibilty which allows me time for one of my foremost passions-meeting you! I want you to get to know the real me. Drop me a line and we will create a bespoke memory together to cherish and repeat. If you'd like to discover sports, arts and hobbies we share, visit me here: missavanova.com
Expectations
Kindly submit the form on my site, you may also text or email me when you complete my form. Please refrain from calling as I prefer text or email. I typically will answer you within a few hours, 7 days per week. However, please allow up to 2 days, as I don't use automation or a personal assistant, my response to you will be as sweet and personal as I am. I offer more than 5 easy, quick options for verification and I *welcome* same day encounters. I'm happy to answer any question about verification. Please see my website missavanova.com. I am always travel ready to any city. Please fill out my form for bespoke travel options. It never hurts to ask ;)
Within 1 hour of NYC outside of the 5 burrows, Please cover my transportation.
Boston, Philly, DC and surrounding, Please request at least 2.5 hours, 3 days in advance. I request a deposit if we have not met. If you would love to meet but do not have this much time available, please cover my travel accommodation or ask when I'll be in your town.
All other US cities: Bespoke travel options are available by filling out my form. Or: Please request at least 6 hours, 3 days in advance & I will cover my own travel expenses. I request a deposit if we have not met. If you would love to meet but do not have this much time available, please cover my travel accommodation, simply fill out my form & I'll be happy to let you know what my travel expesnes will be.
How Do I know you're real, Ava?
Please visit my site for more selfies & reviews on external sites, a link to my P411 & more. After verification, I'd be happy to send you a few recent selfies also!
Thanks for spending your time getting to know me here, I hope to enjoy getting to know you soon!
Playfully Yours,
Ava
Contact Info
Contact
Information
Add Ava Nova Petite Provocateur to...
your address book

(vcard)

your smartphone

(QR code)

Scan the following QR code with your smartphone to view or save Ava Nova Petite Provocateur's contact information: