+

Exquisite adult companionship INDULGE you deserve it! 100% fetish friendly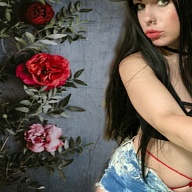 The Italian phrase "vierve senza rimpianti" is tattooed down my side. It means "live with no regrets". Life is short! Embrace hedonism, enjoy pleasure! Regrets come NOT FROM doing but FROM NOT doing!
Originally from New York, my unrelenting wanderlust has taken me on journey with many twists and turns.I credit each & every one with helping me grow into the one-of-a-kind person I am today. In the much more literal sense, the most recent of these brought me to Phoenix where the sunshiney days and beautiful desert scapes convinced me to stay awhile.
I'm 119lbs with an hourglass figure and luscious pouty lips. I'm Often told that walking behind me provides one with a phenomenal view lol! As you browse my profile photos it will be pretty obvious why I don't include hair color in my description. Over the years my hair has been every color of the rainbow. I've been asked why on more than one occasion, to which I reply "why not"? Recently, I've developed an obsession with wigs. For a Pisces, known for our vivid imaginations, love of change, and our tendency to spend hours in our heads daydreaming about things far more fascinating than whatever is going on in the "real world ", they're great fun! Transforming from a cute girl w/ short alt colored hair to a striking waist length raven haired goddess,then maybe a pin up girl with long mint green waves, or a black bob perfectly channeling tfhe lovely UmaThurman as missus Mia Wallace in (maybe the best movie ever ) Pulp fiction… it's perfect for the Peter pan esque side of my quirky piscean brain! Needless to say, I love any reason to dress up, evening wear, lingerie (especially black thigh high stockings), any occasion that let's me "play dress up"is an instant fave!
However, much more than just becoming someone else, I really get a thrill from becoming who YOU want me to be. Refined or raunchy, sassy or sweet, what's your pleasure? This is where the submissive and the exhibitionist in me join forces to make me an obedient girl as eager toplease as you could fathom and also this is what makes me so open minded. As non judgemental as they come im great company to one who may be newly exploring their own predilections. Also my incall is my own residence, in a safe area, discreet parking available, and a vibe that is easy, comfortable. I'll do all I can to create the right mood for you, (music, lighting, etc) any requests, just ask!
Isn't it time you REALLY put yourself first? And, found someone else who KNEW how to do so as well? Escape reality & tell your routine you're taking some vacation time (even if it's only an hour). Check your inhibitions at the door and let me show you what it's like to be truly pampered. Refuse to settle.
The Look
Allie XO is a 5'3", curvy caucasian woman with short hair and hazel eyes.
She is available for Male, Female, Couples, and Trans.
Interests
Photography is my passion. I had my Canon Rebel stolen and it broke my heart but I'm saving for a Mark IV. For now I do pretty well on my note 10+ with some good camera apps
Animals; I am a strong believer in humane treatment of all living things. No I'm not a PETA wingnut. I don't see the effectiveness of ruining someone's fur thus (most likely) causing them to buy another lol. Oh huge amounts of love for both cats &dogs. I am not picking a team here because they're both awesome! They give us unconditional love. It's so nice to know they are there for us and if we're having a bad day, they know and try to cheer us up. They have that sixth sense and just feel when we need them! Sooo sweet!
Expectations
Please text first& give as much information as possible ie Name, where you got my info, any references you may have, when you're desired appt date/time is etc…
If you will be wanting an outcall, please give as much info as possible re where you will be located and of course best number to get back to you on.
DO NOT include any references to illegal activity, lewd text or photos (the dick pics are NOT a turn on guys lol) As for me, all photos are recent and unedited (with the exception of maybe changing the color filter from original to Vivid or something lol).
I'm more than happy to stand in front of the television displaying the time and date, hold a copy of the day's news paper or whatever else you can think of to confirm that I look the way look right now. For real, DEFINITELY do not try to get free sexy photos claiming that is how I can verify my identity or lack of LE affiliation. Basically, just use a little common sense and we will be fast phone friends.
I am available 24/7 with advance notice. You can reach me via text from 10am-10pm Mon Sat and 12pm-10pm Sun. I do my best to get back ASAP &while certain times are busier than others, I PROMISE I will follow up with every appropriate message.