+

Sophia Sakara your exotic Asian mix girlfriend & jetset partner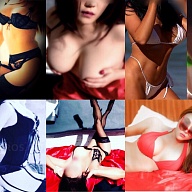 The Look
Sophia Sakara is a 5'4", curvy, 26 year old asian woman with long brunette hair and brown eyes.
She is available for Men, Women, and Couples.
I'm so glad you found me & that you're thinking of spending time with me.
Let me know if you have any questions or want to meet ! I can't wait to hear from you. Much like you I live in reality where I am restrained by the dullness of everyday life so once in awhile I like to escape the world and take a break from being a good girl and break all the rules. Without a pleasurable escape to turn to every so often we would go insane. Our souls would shrivel and we would wither like a flower without sunlight and water. Let's regress together like children without a care in the world and have some fun & enjoy our lives before we die.
Available for doubles with Asian independents!(or whomever you wish)
San Diego February 12th to 16th
San Jose February 17th to 20th
San Francisco February 21st to 24th
Seattle Late February to Early March ( Home sweet home)
Raleigh- Durham & Charlotte, North Carolina -March
Columbia & Charleston, South Carolina- Late March
Boston, MA & Hartford CT & Stamford CT - April TBA
Manhattan NYC & NNJ Select days in April
Available for fly me to you dates. Domestic - no airfare required with 3 weeks advanced notice / International trips please add roundtrip airfare) Fly me to you for a day or 2 ( 6 hour min 3000 USD)
I'll also be visiting Texas, Berlin, Dubai, LA,
Interests
Thank you for taking the time to learn a little more about me. I have a genuine interest in others and hope we can meet & create great memories together. I want to be your confidante and your best friend. I like to think of myself as a social chameleon and would love to accompany you as your date to any event. To inspire you to live your life to the fullest and enjoy every moment especially when we are together. I am an American born in Seattle but lived in Asia for a few years until I was 3 however I don't speak any other languages fluently besides English and some Spanish, Italian & can understand a tiny bit of Chinese & Japanese but barely since we spoke English in our household. I am half Chinese American (ABC) & half Japanese Eurasian (one of my parents has a parent of European heritage). I also have 6 plus siblings & half siblings so I can not get too into specifics & prefer discretion & partial anonymity. My face is blurred in my photos out of respect for my family & in hopes of carrying on with my education & life after I get all this travel, adventure & my sensual reawakening out of my system. I was stuck in my hometown for almost 4 years before I became Sophia (in the summer of 2017) without a social life so I am sincerely enjoying the human interaction that comes with this sweet escape that is Sophia Sakara. Although my ads describe me as Exotic in my appearance, I am an all American gal. I went to school on both the east & west coast and lived in both the eastern & western world. I think this has helped me to adapt to different environments & to appreciate people from all different cultures & countries. Perhaps we can meet very soon in San Francisco, San Jose, San Diego, the Carolinas, London, NYC & surrounding cities in the northeast, Seattle (my hometown), Dubai, LA, Berlin or fly me out to see you for 6 hours (3000) or a day (5000 plus 2500 each additional day) or a weekend(6000).
Expectations
I am your partner in crime. Life goes by so fast. Let's escape the world just for this one moment in time. Won't you be mine tonight.
All cities - 800 usd/90 minutes
1000/2 hrs
3000/Sweet dreams - Evening to 10am
(Please note I need atleast 4 hours of rest for overnights)
5000/ 24 hrs
6000 Weekend Saturday morning to Sunday evening. (2 days)
3000 Fly me to you anywhere in the world for 6 hrs!
Airfare not required for domestic trips booked atleast 3 weeks in advance. Please add Roundtrip airfare for International trips.