+

Ashley Steel Pornstar XXX California Perfect 10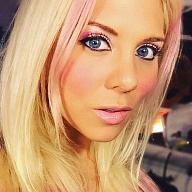 Porn Star - Blonde hair, Blue eyes, sexy California Girl with a lot more compassion. Graduated from Top Los Angeles University, Smart, Sexy, Sophisticated… the whole package!
Pornstar & XXX Model Ashley Steel here… I'm not your typical blonde hair, blue eyed bombshell! Quite the contrary; I am well educated (3 college degrees, and graduated from a top University in Los Angeles), world traveled, personable, and a natural born optimist. A true California girl at heart, but with a dash more 'friendly compassion'. The deep sky blue eyes, genuine smile, itty waist & big booty don't hurt either. If you're looking for a smart, graceful, sexy blonde, who is charismatic, fun, and will make you feel like King of the World, then look no further, you've found your princess! I cater exclusively To the uptown, classy kind of gentleman. Our time spent together will be a memorable, rejuvenating experience that you'll remember for a lifetime. All I can truly say is that I believe that being mentally, emotionally, spiritually and physically 'present' with someone is the most important gift you can share with them. That is something you will always get from me. I will NEVER be distracted, and will NEVER be constantly checking my phone (or the clock). I will be there with you, 100%. Don't you deserve that kind of attention from a beautiful woman? I think you do ;) My photos are recent, and truly honestly me. Don't be fooled by my pics on other profiles, this is the only one thats the real Ashley Steel, the one from the movies, magazines, tv, etc. If you want to know more about me follow me on twitter, Facebook (links below) and look for my XXX movies, interviews & magazine spreads. My social media is mostly full of pictures of my animals and sometimes me too… I do have a screening process and I always book in advance. 24 - 48 hr minimum is usually suggested, tho occasionally I can screen and prep quicker depending on ease of screening your information, and my schedule. I don't have an incall location, but I can make future arrangements after our 2nd meeting. Please know that I am more of a quality over quantity kind of girl and you'll never need to worry that I've come from another appointment. I often only take 1 or 2 meetings in an entire month (some months I see no clients) and am very selective about who I approve for an appointment. I believe that time is precious, and that its best to be spent with quality people who respect and value each other =] if that's you, then let's get started! XXXOXO Ashley Steel
Shot with Penthouse, Genesis Magazine, Cover of Oui Magazine, Shot with Hustler, Wicked Pictures, Metro, Redlight District, Corrupted, Peach,etc.
The Look
Ashley Steel is a 5'6", slender, 27 year old caucasian woman with medium length blonde hair and blue eyes.
She is available for Men, Women, and Couples.
Interests
Meditation, my sweet little fur babies (2 dogs & a cat- not a furry lol), taking in all this beautiful Earth has to offer (Beach, Mountain, Sunsets, Delicious Food, Generous People from all over the world, etc), I love traveling and learning about other cultures through immersion, taking the bull by the horns and enjoying life baby, no regrets - only growth, passion projects (ask me, I'll tell you about any number of them).
I believe people are good and generous at heart… sometimes people lose their way for a minute, but I like to live in Optimism for humanity (It's a personal choice to live happily instead of in fear…). I grew up listening to teachers like Anthony Robbins and so many of those core ideas sunk in deep and made me who I am today.
I love adventures, and would to have an adventure with you ;)
Expectations
You can find my Etiquette @ http://www.ashleysteelxxx.com/etiquette and to be honest its kind of a dense read… so the most important stuff you need to know before booking an appointment is:
Expect Screening… I usually prefer a couple days notice. I am thorough with my screening and don't accept just anyone who applies. I'm a very exclusive kind of gal. On a bright note you'll never have to worry about me coming from another appointment, or even scheduling someone in the same week or month.
I have a minimum of 1 hour, which is $1000 / hr for my time only.
If you email me, call me, text me and start asking explicit questions or ask about specific activities during our time, I will NOT schedule time with you. My only service is my time.
Speaking of time, it's really important to me that you respect it. Please don't ask for free stuff, or expect me to just chat with you for free. Just like when you go to work, and no matter how much you like your boss / customer / client, you still expect to get paid… I expect the same.
No drugs or drunks please. If you'd like to share a drink, it must be an unopened bottle of champagne or wine or beer, etc… tho to be honest, I am not a big drinker.
Otherwise be your wonderful sexy self, and lets see where our adventure takes us.