+

Provocateur, Companion, Traveler & Adventurer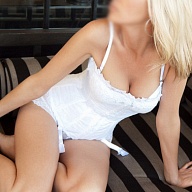 Well behaved women seldom make history. ~ Laurel Thatcher Ulrich
The Look
Laila Johansen is a 5'7", slender, all natural caucasian woman with long blonde hair and hazel eyes.
She is available for Men, and Couples.
I've been called an enigma, which I take as a fabulous compliment. I know I seem conservative and in fact, my friends and family are; I don't mean politically but more in the societal conformity sense. Meanwhile, under my buttoned up attire, is a rather striking non-conformist. Obviously…I'm here, aren't I? ;)
Beyond the obvious, I'm a fierce freethinker. I enjoy entertaining all kinds of intellectual, economic, political and even scientific questions. And I like challenging people on their thinking as well as being challenged. I'm fascinated by scientific controversies and how politics, religion and economics play into shifting paradigms. It's all a bit nerdy but if you're hanging with me, it's a big part of who I am. Think west coast appearance meets east coast attitude. I can also be incredibly silly and spontaneous.
I'm well educated and well read and do best with people who are as well. I'm every bit as happy camping in the jungles of Bolivia, or shoveling a 4-wheel drive out of the mud on the savannah as I'd be sipping a rosé poolside, at a fabulous hotel, after a spa treatment.
I love to laugh and enjoy a man who can as well, which is a little different than a good sense of humor. But if you have both, well then, bring it on!
I'm fairly petite… a size 2, with tiny ankles, wrists, hands and feet, uncommon for someone my height. I'm classically pretty but I don't find that particularly interesting about myself…or anyone else for that matter. Obviously, I won't complain that I'm pretty, but I have traveled the world modeling, lived in Milan and New York, traveled to Africa, Australia and Asia on modeling assignments and ultimately, after hanging with all those pretty people, I became quite disenchanted with just a pretty face. Tell me that I have a social conscience, that I'm intelligent, funny or kind… now THAT means something.
Please visit my website if I've piqued your interest. I am selective about who I meet and give deference to those with whom I'm compatible. If you could be so kind as to tell me a bit about yourself, we might be off the a fabulous start. :)