+

Slim sapiosexual with piercing blue eyes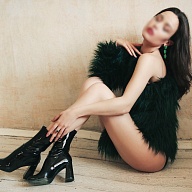 "Here's to the crazy ones. The misfits. The rebels. The troublemakers. The round pegs in the square holes…"
You: work too much and give too much of yourself to everyone around you. You've worked tirelessly for years to ascend, to build something, to provide. Now you want something, someone, just for you. Flights alone are long. Empty luxury hotel rooms are eerily quiet. Meals are quick and joyless. Every time the dreaded phone buzzes it's another crisis, another fire to be put out. It feels like everyone hears you, but no one listens. Lately you've thought to yourself, could that tired cliché actually be true? It is kind of lonely at the top…
Me: the college girlfriend that got away. The one you still dream about. I am your partner in crime. Your confidant. The warm body beside you. The exciting affectionate companion that restores color to your world. You tell me things you won't tell anyone else: your ideas, anxieties, and dreams. Why explore a foreign city alone when you can do it with me by your side? I am well read, well travelled, and hold a degree from a top University. I am beautiful, curious, inspired, witty, and kind.
I have big goals for my life, but an empty space where you belong. I covet your guidance, wisdom, and generosity.
So thank god we've found each other. Life is funny, isn't it? Sometimes it brings you just what you were looking for.
The Look
Roxy Rae is a 5'5", slender, 28 year old caucasian woman with long brunette hair and blue eyes.
She is available for Male, Female, and Couples.
Interests
International travel, art museums, speakeasies, exotic perfume, nature, animals, creative fiction, and a killer pair of heels.
Expectations
Screening always required for new friends.
I'm an experienced and passionate traveler, so please feel free to email about flying me to you.
20% deposit required for dates over two hours.
1.5 hour minimum so we can relax and get to know each other.
1.5 hours…1500
2 hours…2000
3 hours…3000
4 hours…4500
For more specific requests or information, please email. Good hygiene & complete discretion are musts.