+

All Natural DD's on a Tiny-Dancer's Slender Frame, with a Glamorous Face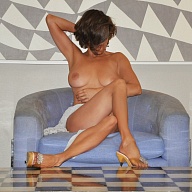 Alison, did I tell you that of all the women I've met, you are the one who challenges me most intellectually? But just because we had a lovely convo isn't the main reason I want to come see you again!
The skinny is that I am an upscale-but-down-to-earth fun and very responsive companion in Los Angeles that is very good at… well, certainly anything we may end up doing…
I also happen to be skinny;)
You can most likely spin me. Skinny with: ALL NATURAL, but unnaturally-full-for-my-slender-frame gorgeous DD breasts. I also come with incredibly soft skin and kissable lips.
I have tons of passions. There's not much I am not passionate about. I love to cook. Perhaps even for you sometime. My private space will often smell of something savory from the slow cooker. I take pride in my place and pride in my pleasing you.
I love words. I appreciate proper grammar and great communicators, and I am refreshed by people who choose to spell out their sentences as opposed to acronyms, with the exception of a true "lol" sometimes. Please note that some of my grammar has not been correct above, lol! Ok. I'll stop.
I love connection, I love expression, I love music, I love… well, let's just say brushing my teeth, lolipop's, a nice cone; things of that nature;-) I love books (the actual paper one's still and also via audio) intimacy, learning, flirting and eating. I drink up great humor from the dry to the adorkable. I also like to drink. I am well traveled and consider myself blessed for it as well as many other things. Please enjoy some other ways I am blessed while looking at my photos… It would be selfish of me to be built for men (and some women) not to share those blessings with the very deserving. And along you came.
What else can I tell you about myself? I also have a heart bigger than my boobs, true story! I mean, have you seen them? Oh, yes, by now you have! I mentioned the humor thing. Besides, how seriously can I take myself in telling you about me when I know you're reading this literature placed over a picture of my (however very lovely) naked body with no head attached to it in the photo?
In real life, my head is totally attached. Super attached, as a matter of fact (I didn't mention smart and grounded). Which reminds me, I look forward to you seeing my face. I know you would love to see it here, but discretion is number one. I am willing to say my face may be my strongest physical asset.
I chose those words because one) it's been said to me "wow, your face may be even more gorgeous than your body" (Thank you!) and two) I get to avoid more pretentious sounding statements in an effort to describe to you that I am universally, classically beautiful while you get to decide how much you love my body and know that I feel confident that you will find my pretty face to be to the same fine caliber.
The Look
Alison Littlefield is a 5'7", slender, all natural, 36 year old caucasian woman with shoulder length brunette hair and blue eyes.
She is available for Men, Women, Couples, and TV/TS.
Interests
First: YOU…
Feeding others well and being well fed…
Laughing…
Writing…
Agent Provacateur (you are interested in this too, haha)…
Breathing Music…
Ocean, sand, and air…
Desserts, Deserts and Hot Springs…
Organization…
Champagne and Bold Reds…
The Ease of Your Company…
Expectations
Things you should know before reserving our time:I have a large dog, who is a giant sweetheart. He will bark to alert me that you're here, then wag his tail to you upon entering the door. Please do not ask me to put my dog in another room. If you are not comfortable with dogs we're probably not a good match. That statement is not because I have any prejudice against people for their likes or dislikes, nor am I a member of PETA, just that this is his home, so please don't ask me to kick him out. (But seriously, what's wrong with you if you don't like dogs?)
Hygeine, please…duh! Please never hesitate to ask for a shower or bubble bath before or at any point during our session. You are also welcome to one prior to leaving, which will be difficult for you:-)
The reason I do not do outcalls does not come from a lack of desiring to cater to you. The concept is beyond sexy to me, me coming to you to completely serve you. The reasons are grounded in the foundation that I love doing this, but it becomes not enjoyable to me if it is with the risk of my privacy or reputation being compromised, or my vehicle being taken, etc. You understand. The more comfortable I feel, all the more rewarding for you. And that goes both ways. I am hospitable and you will feel comfortable here. I do take trips and cater to the travel of well established relationships.
Please understand I do not see each gentleman that contacts me. I like to remain very discreet and only bring in my life what I truly enjoy and have time for. I do not discriminate except for by legal age and rudeness.
I can't wait to meet Well-Mannered-Fun-You!
Contact Info
Contact
Information
Add Alison Littlefield to...