+

I'm probably funnier than you.

Categories

Escorts, Massage

Virtual Dating Details

Join me on OnlyFans for all my exclusive content!

www.onlyfans.com/xostefania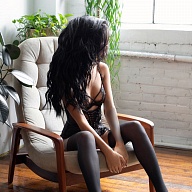 Follow me on Twitter: @StefaniaVillaTO
PSA: My books are now reopen for June 1st onwards and I am currently accepting prebookings. Priority will be given to clients who book extended engagements. Please make sure you to book through my website's booking form. If you are showing symptoms or sick in any way, please stay home.
Hello! My name is Stefania, an independent companion based out of Toronto, Canada.
Although I have lived in Canada most of my life, I was born and lived some of my early years in Central America. As such, I am fully bilingual in English and Spanish and am currently working on mastering the German language. I will be moving to Berlin, Germany in September 2020 for an exchange abroad, so your time with me in Toronto is ticking.
Rather than describing how smooth my skin is or how beautiful I think I am, I will trust you have eyes and leave the judgement of my outer beauty up to you. Let me tell you a story about me instead.
When I first joined this industry, I was convinced I had to be this token person who dressed to the nines in fancy clothes and wore uncomfortable shoes. "Don't be yourself, be what other people expect you to be." While it certainly netted me fancy clients who took me on fancy dinners and equally as fancy excursions, I didn't stop to consider that some of these people were outright unpleasant.
First off, do you have any clue how horrible it is to sit there, enduring conversation and pretending to like someone you have absolutely nothing in common with? Often for hours on end? I wanted to shoot myself! I finally had my tipping moment when I decided I no longer cared if it wasn't the "right way", all I wanted to do was stop the pretentious nature of everything I was doing and simply be myself!
Because of these early experiences, I have learned to be ruthless in my search for clients whose company I genuinely enjoy and who give me the freedom to be myself. Never again will I pretend to be someone I'm not with a person who I secretly want to strangle. I am looking for clients who seek to connect with me on a real human basis and want to get to know the real, unfiltered version of me that can sometimes be clumsy and trip over her own shoes and miss non-verbal cues to stop talking when she gets into a endless tangent about God knows what.
These days, I take an extreme amount of pride in being a person you will never have to wonder, "Is she being genuine or faking it?" I have built a reputation in this industry for being a person of sky-high standards. If I choose to meet you, you should feel pretty special! It means I saw something specially attractive in you, seeing as I turn down nearly every single person who requests a date with me.
I must warn you: I have an incredibly high rejection threshold. I confidently reject over 95% of people who try and book me. I strive for quality over quantity, and the frank truth is not many people are worth meeting. If you want me to even consider you, the onus to prove you are serious is entirely on you. I ask you to step up to my challenge and try to convince me why you are someone worth meeting. I am very attracted to effort and respect. Sloppy two-sentence introductions, negotiation of screening or rates, and any inquiries that look like they've been slapped together in five minutes will never be good enough.
As a person, if I had to use a couple of words to describe myself, they would be: ambitious and driven. I'm not a person who coasts about life without purpose. Currently, my biggest aspiration is to get my PhD and work in the field of academic research. For the past three years, I have shaped my entire life around achieving this goal. It's not a matter of "if" I get my PhD, it's "when" I do. I've never wanted something as badly as I want this.
Phew! Did you make it to the end of this long ramble? I'm so happy! How about making an actual date out of it? I would love to host you at my upscale Yorkville location. I hope to see you soon!
The Look
Stefania is a 5'5", slender, 26 year old latina woman with medium length black hair and brown eyes.
She is available for Male, and Couples.
Presentation
Feminine
Interests
Although my preference for gifts will always be cash, I also understand many enjoy the physical aspect involved in gift giving. For those people, you can also check out my wishlist: xostefania.nl/wishlist/