+

For the discerning gentleman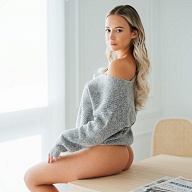 Your French Canadian Sweetheart
Hi, Zoe here!
I believe that one of the greatest pleasures in life is to be receptive to cultivating relationships wherever I go, whatever I do, and with whomever I meet.
Perhaps it can be attributed to my small-town French Canadian upbringing that I have a perpetually amiable demeanour and genuine interest in others. My sense of humour, which at times can even be self-deprecating, generally puts people who might otherwise be hesitant to approach me more at ease. Quite simply, my positivity and joie de vivre is infectious and makes others want to get to know me, spend time with me, and laugh with me.
My unique combination of poise and positivity render me to be the rare companion for someone who seeks tempered sophistication, but also an insatiable appetite for passion and outright fun. These same qualities also have afforded me with the versatility to move with ease in social settings ranging from informal to formal, and anything in between. I can dress comfortably in easy-going – but still impeccable and fashionable – attire just as easily as I can vamp it up in sexy, high-fashion couture that's sure to turn heads. Regardless of the occasion, you can rest assured that I am a discreet companion who always maintains an unshakeable sense of decorum.
I can be angelic one moment and mischievous and devilish the next. I can be a sensitive, good listener one moment, and a wild, free-spirited partner willing to explore pleasure, lust, and hedonism the next.
A university-educated professional, I am well-read, well-travelled, and have an insatiable curiosity and willingness for intellectual conversations. And what better way to explore new experiences, adventures, and all-around fun than with a partner who shares my outlook – someone who likewise shares my appreciation for the arts, culture, and travel, and for whom forming a long-lasting connection would be a mutually inviting proposition.
Are you that person…?
Fondly,
Zoe
Twitter: ladyzoeto
The Look
Lady Zoe is a 5'8", slender, 28 year old caucasian woman with long blonde hair and hazel eyes.
She is available for Male, and Female.
Expectations
I expect you to be courteous and respectful in all our interactions – before, during, and after our time together. I am a sensitive, caring individual with personal limits. I expect that you will always respect them.
​
I ask that you place the donation in an envelope in a visible spot within the first few minutes of our meeting. To avoid any awkwardness, please don't make me ask for it.
​
​
I ask to be in drug-free environment. Please, do not consume any illegal substances in my presence or I reserve the right to terminate our time together.