+

Sexy, Sassy, All-Natural: Reputable AZ Elite Companion & Travel Guide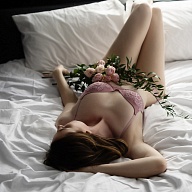 "I can't decide whether I'm a good girl wrapped up in a bad girl, or if I'm a bad girl wrapped up in a good girl. And that's how I know I'm a woman!"
I consider myself to be an experienced luxury (all natural) companion with a great reputation, attributed to my genuine and authentic sense of self, always desiring to have you feeling special, connected, and like the "only one". I am known for my fun, sassy, and witty sense of humor, met with a sweet and loving touch that people find engaging and enticing. People find my energy to be close, welcoming, and connected. Deep within my heart, I carry a fire that can be expressed as a fierce but intuitive passion for creativity, people, life, and the unknowns. You'll have to meet me to see. I love spontaneity and my most favorite encounters are when we have the privilege of spending time in the outer world as well. I also love adventures and make a great travel partner in crime! Just as much, I love to indulge in the simple moments of your hand in mine and one shared pillow as we talk into the night. I would love to journey together, explore together, and see where the time takes us.
Whether you appeal to a fleeting "friends from afar, passing with the winds" or a deeper, more personal ongoing connection, count me in as your trusted companion. With me you will find a safe place to relax (or spark!), unwind, and rejuvenate before returning to your probably busy, demanding default world. You will not find drama, disrespect, or a disingenuous experience as authenticity is one of my most valued traits. I appreciate you and hope you do the same! And of course, discretion and safety are paramount.
Aside from all of that… Do know that I am a firecracker at heart and I love to seize the moments! I also have great taste(buds), so food and fashion are ways to this lady's heart. Compelled and inspired by creativity in all forms, I light up at live performances, opera, theater, symphony, art museums, concerts, and even drag shows! Without art, design, creativity, and the beautiful people in my life, my world would be drab and dull. Bottom line… I am a sophisticated and well poised woman who carries herself with grace and elegance to the outer world. At heart, I am also fiercely independent and inspired by adventure, creativity, and spontaneity. I know when to employ manners and when to be free. Whether inhibited or uninhibited, in spirit I am enjoying my experience of being human and discovering life's little (or great) treasures. Care to join me?
Coming soon… Stay tuned for new photos and website!
Kisses, ad infinitum!
Avia Marie
The Look
Avia Marie is a 5'7", slender, 35 year old caucasian woman with long brunette hair and brown eyes.
She is available for Male, and Couples.
Interests
Distinguished and Generous Men, of Course!
Fine Arts (Spectating and Creating!) & Design
Travel (Still Many Places to See!)
Fine Dining and Social Outings
Fitness (Keeping my body fit)
Live Music (Jazz Bars, Concerts, Symphonies, Fine Arts Performances of All Kinds, You Name It…)
Musical Studies
Adventure (I'd Love to Raft the Grand Canyon!)
Outdoors (Yes, I can Camp!)
Friendships & People
Fashion & Lingerie
Being a Woman!
Something New… Just Not Sure What, Yet! My Imagination is Endless
Expectations
Preferable days for appointments are Monday-Friday, but I am able to accommodate weekends with advanced planning. I may request a deposit.
I do travel and request as much notice as possible.
Refer to website for etiquette, consideration, and additional information.
If inquiring for a visit, please introduce yourself and complete the screening form on my website. A courteous follow-up email is welcomed as sometimes messages end up in spam, etc.
If you would like a copy of my review profile (minus the "private details", I would be happy to share, at my discretion).