+

Talia Amour, sensual seductress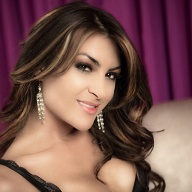 Authentic energetic exchange
Remember the last time you had an experience that simple words could not describe?
unspoken words voiced through movement of the body…the glance of an
eye…smile…
It is time for an erotic artist escape!
It is my pleasure to offer you an experience with…
Authentic conversation, Passionate connectivity…an Experience beyond the usual.
I will create for you a time where you can truly be yourself and enjoy surrendering to the euphoria of the moment.

My passion is creating a space where we can relax, have fun,
create and explore our most erotic and intimate desires
Special interests in:
Companionship
Tantra
Sex coaching
Differently-abled persons :)
Don't hesitate…there is something to be said for setting aside time to be spontaneous!

I invite you now to visit my website, blog and newsletter to see new pictures and enter to win an exclusive two min video of me.
lets make magic!
Xoxo
Blissfully yours,
Talia Amour
Visiting new York June 26- July 1 2016
Interests
Please visit and sign up for my blog today, it's free! This is your oppertunity to get to know me and connect with me more. I post new pictures and updates of my latest adventures every week (or two) for your exclusive enjoyment! I also have a bi-anual news letter you may sign up for on my website if you prefer less frequent updates.
Expectations
Donations for Florida:
1 Hour $500
2 Hours $900
3 Hours $1,200
6 Hours $2,000
12 Hours $4,000
24 Hours $6,000
**NYC, LA, Chicago: 1hr 600, 2hr 1000, 3hr 13000
*Extended experiences/Travel companion are my Speciality*
My rates are not negotiable and are for companionship only. You are paying for the time you spend with me, not for any particular activity. I will never discuss encounter and finance in the same conversation, regardless of our communication medium (email, text, telephone or in person).