+

There's a new girl in town… Nina Noir 267-512-1050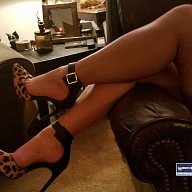 The Look
NIna Noir is a 5'3", curvy, all natural, 34 year old caucasian / latina woman with auburn hair and brown eyes.
She is available for Men, Women, Couples, and TV/TS.
Hello Gentlemen:
Thank you for selecting my post. I am open, adventurous, exotic, with glowing, golden skin, flashing eyes, and a warm, inviting smile. My bountiful breasts and bottom are certain to please the discriminating gentleman in our more private encounters. My outgoing personality will charm you. My genuine warmth will draw you in. I'm looking forward to this! (Big Smile). I'm fun! I love making you laugh and seeing you smile. You will feel welcome, and I'll put you at ease quickly. I aim to please, and my satisfaction is in fulfilling your dreams. That's important to me. I'm genuine and real.
And sir, you should know, I'm enjoying this along with you (wink).
I am INDEPENDENT. I'm truly new to this as a formal provider, but it has been a fantasy for a long time. I'm excited by the possibilities! Here's your opportunity. I offer the excitement of the chance encounter. I'm the sizzling woman with the voluptuous body and smoldering sensuality that scorches you every time you see me passing on the street. You've longed for me. What you didn't know: I am willing and wanting. I want to be the woman you think of when your mind drifts…your unencumbered encounter…your private escape. I am the upscale lady that you are proud to have on your arm. I am polished, poised, and confident in conversation. I am open and free in our private moments. Tell me of your day, whisper your inner wishes. Find your way to me. I'm ready.
My goal is to build some ongoing relationships with sophisticated, mature men. I prefer meaningful, exclusive, engagements. I've always wanted to try this! Help me unleash my fantasy. Come meet my needs and allow me to meet yours. Life is short; let's enjoy. Let's live on purpose. I look forward to hearing from you!
If we have not met, a gentle screening is required for both of our discretion. It always helps to provide references, work info, and a photo. I promise, on my honor, complete discretion and ask the same of you. I am clean, drug-free, drama-free, and seek the same. I have a private, upscale location just outside of the city with convenient parking for our rendezvous. Nina Noir 267-512-1050. Willow Grove. Please CALL. I promise that you will feel my warmth, intelligence, and excitement right through the phone. Text takes too long, and I must hear from you first. Please understand that I'm not always available to answer the phone. But I will make every effort to get back to you. I'm looking forward to meeting you!
Verification is requested.
Incall:
1 hr 300
90 min 400
2 hrs 500
3 hrs 700
Interests
I want to add that that I had no idea what a THRILL this would be! To those I have met and to my new regular friends: Gentlemen, THANK YOU. You have made this a wonderful experience. Thank you most sincerely for all the kind words, advice, and compliments. I've listened to you, and here I am on Slixa! (Big Smile). You guys have really made this great!
I'm learning things about myself on this journey, one being that apparently, I never say, "Never" (wink). And now my "Bad Girl" side is in full swing. I love women as well. I'm looking forward to meeting my first couple… Tee hee! This girl is on Fire.
Expectations
Thank you so much for selecting my profile. I know you have many choices. I am delighted that you have come here to me. My promise to you is that I am a real woman. I'm also here for what you are seeking as well. I have a strong drive, and I'm enjoying this along with you. I will never rush and my focus is on our experience. Let's be good to each other. And let's make it memorable. Live on Purpose, with me.
Remember, we are in this together. My screening process is simple, but must be adhered to. This is for you and for me. Please do not ask for special allowances. Your privacy is extremely important to me, but as much as I value your privacy, my personal safety is also a top priority. In order to ensure that our time together is every bit as wonderful as you expect, I need to feel relaxed and comfortable with whom I am meeting. Screening is a first step.
Good hygiene is a must. Please arrive freshly showered. If for some reason you can't, I will happily offer you one. I am clean, drug-free, healthy and sane. I seek the same in new friends.
Please be on time. Your time with me begins at the time of our appointment. I will do my best to accomodate you if you are late, but please understand that this is not always possible.
I am real and offer myself in a real experience. Get to know me and you will see. With that being the case, degrading or explicit comments or attitudes are not acceptable. I am seeking mature, whole, polite and respectful gentlemen in hopes of developing an ongoing mutually beneficial relationship. I reserve the right to refuse any caller without explanation. Please do not get upset and go ranting across the web about me. We are all adults here, so please understand that I must exercise discretion and a modicum of caution in this endeavor.
I am a Lady. Treat me with respect, be good to me, and I will be very, very good to you.