+

Supreme & Sublime Sanctuary ~ Tantra Touch with Priestess Rae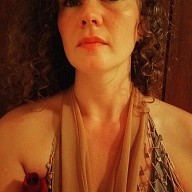 We rely on touch for proof of objective reality and embodied experiences allow us to leave behind the trappings of the mind.
Hello! I'm Rae and I welcome you to my nourishing touch, which allows the body to open so that you can experience full empowerment and expansive pleasure.
Using the healing arts of Tantra in which I am trained, this body work invites you to harness the wisdom and energy of the body on all levels. As you let go of fear & shame and your consciousness expands throughout the session, you will come to know the source of your inner strength and immerse yourself in the feeling of new sensations.
Let's elate in a safe & conscious sanctuary! Tantra also presents the possibIlity of dissolving blockages, profound healing, and deep transformation emotionally, mentally, and spiritually.
A full Tantra session for singles or couples where you will be worshipped and experience sensuality & connection with me starts at 90 minutes minimum (donation $350).
The Look
Rae is a woman.
She is available for Male, Female, Couples, and Trans.
Interests
I love dancing, walking in forests & creeks, and sunny days. I enjoy creating botanical preparations, beekeeping, and being a steward of native medicinal plants. My passions include learning (I am a student of life) and living (I am a lover of life).
Expectations
*Please do not arrive early. I take great care to prepare a luscious environment where all your senses can be greeted from the very first moment of your scheduled session.
*I require a phone conversation to confirm your booking. Be prepared to answer these questions in your first call or voicemail (VM) to be considered for an appointment:
*What is your name?
*What is your experience with Tantra?
*What draws you to me?
*What inspires you to seek this level of body work?
*I will not re-book anyone who cancels late or who is a no call / no show for their appointment. Please re-book appointments at least 24 hours prior to the scheduled time of your arrival.
*I invite clear communication and start the session with a consent discussion. Your pleasure is my priority; creating a safe and sacred agreement is a prerequisite for you to be authentic and experience true freedom. I reserve the right to end the session if the terms of our agreement are not honored and will not reimburse for time lost.