+

Your Mystery Date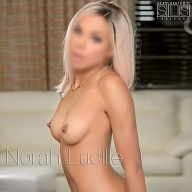 The Sassiest Lass, Best Dinner Date, and Companion for the Lucky, At Your Service.
The Look
Norah Lucille is a 5'3", slender, all natural black woman with medium length blonde hair and brown eyes.
She is available for Men, Women, and Couples.
A twenty-something mademoiselle interested in having unabashed fun with the right person. The right person is defined as: a consummate gentleman who is respectful, intelligent, interested in long-lasting connections, likes his ladies like his wine: (fine, pleasing, indulgent, bright, complex, refined, velvety, intoxicating?, etc).
I am 5'3, 115 pounds, a perky B cup on a toned frame; swimming does the physique good. Good genes and pure luck do the face good as well. Ol' brown eyes half describes me correctly and my hair is a shoulder-length blonde bob. For the man who yearns for the days when bush was not a dirty word, I have a fashionable (small) rug that (no longer) matches the drapes.
Five things I am not:
-a supermodel (waiting for the next 10" growth spurt)
-a chatterbox
-capable of reading minds
-a butterface
-obsessed with time (see below)
Five things I am:
-exactly like my (few) pictures (though likely better as I actively work on my body)
-subtly bewitching
-always in need of 10 minutes more (chronically tardy)
-insatiable (of the various appetites…)
-sincere
-BONUS: an over-user of parentheses…if you hadn't noticed!
I love to be affectionate. I adore kisses, cuddling, caresses along with close conversation. I also love to be dolled up. I will always have something lacy under a dress and heels unless otherwise requested. My aim is to focus solely on you.
My offerings maybe a bit different than the norm, but I think you'll find with me, different is good.**Date night** is a bit more organic and allows for the evening to flow as we wish. It can last from 3-4 hours depending on our desires.
Don't get to DC often? With appropriate planning, I can and do visit Philadelphia, NYC, Boston for date nights and longer.
Interests
I prefer getting to know each other in person as the nuances in personality are so much more fun face to face, but I will say that I am a music fanatic, fond of good food and drink, and very passionate. I feed off of your energy and vibe and if you strike me as low-key, I'll be as well, but have no problem being more high-intensity or anything in between. Don't hesitate to let me know what you prefer. I am, after all, your date; your fantasy. I am a pleaser and a tad bit submissive so making you happy does good things for both of us.
Expectations
I expect you'll read my site and visit my twitter to get a full understanding of my personality and whether or not we'd get along.