+

Sensuous Sybarite + Architect of Experience

Categories

Escorts, Fetish / Kinky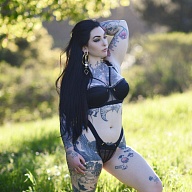 The constellations of illustrations etched forever upon her flesh are a treasure map for you to follow with hungry finger tips…
Slixa has verified that the photos marked with these blue badges are accurate representations of Adahlia Cole. Photo Verified Entertainer
Photo verified Sep 2019
Hello Perfect Stranger,
I want you to reach into the vaults of memory and recall the first blush of adoration you experienced for the fairer half of our species, the strength of your admiration and longing for her touch…when was the last time a woman truly stoked the fires of your imagination, made your heart quicken and your blood rush? I want to take you back to the square root of electric hunger, of feral hope, and wild elation.
I want to inspire you…
To grant your wishes…
To be your escape from the monotony of routine…
That probably sounds damn ambitious to you, but please think… when was the last time you truly played? I'm going to go out on a limb and guess that lately you've felt like something akin to Atlas, as if the weight of the world is balanced squarely upon your shoulders.
It is vital to carve out time from the pressures and responsibilities of reality and to indulge and nourish yourself. You are driven; maybe your career disallows you the time for a traditional courtship or your domestic life, while fulfilling in so many ways, is lacking in others? Purposefully submitting to pleasure is physiologically and emotionally replenishing and improves your human experience as a whole (ask science!) yet creating space in your busy, professional life and finding the time and energy to plan can be daunting. Let me take the reins. As a practiced hedonist, it has been my great privilege to dedicate myself to curating experiences full of warmth, luxury, and the pure thrill of gorgeous self indulgence for you…and I do a helluva job at it, if I do say so myself.
The anticipation will haunt you sweetly and while you may have memorized the athletic curvature of my waspish waist, plump behind, my defined, strong legs, or the full arc of my lips from pictures, you don't yet know how any trace of nervousness that lingers in you will melt away as they part into the warmest grin, full of mischief. While I do very much enjoy something brief and hungry with a mysterious stranger, I find I connect even better with people who love to follow up such activities with a lot of regaling one another with stories and laughter. I'm the gal for you if you are looking for someone genuine who engages you holistically, whose passions, wit and endless facets stir something in you. Whether you choose to believe me, I really love the path I have taken and I don't hide behind a facade. This is who I truly am and I am so gratified to make a living doing something that creates more pleasure and joy in an often steely world.
I feel confident in my promise that you will feel down to your marrow that our time together was sustaining and well spent.
The Look
Adahlia Cole is a 5'2", curvy, all natural, 29 year old caucasian / middle eastern woman with long black hair and grey eyes.
She is available for Men, Women, Couples, and TV/TS.
Interests
On any given day, you might find me exploring the deYoung Museum and Botanical Gardens or waltzing through Birite or the Ferry Building, picking up culinary treasures to bring back home for that evening's probably overly elaborate dinner party (or to cook for you?). If it is dreary out, I might be inside obsessively researching how to next put to use my my Sous Vide and Searzall, or writing up a new post for my culinary blog. If it's balmier, I'll be naked on my rooftop (decidedly not tanning because I wear SPF 100 since my skin only has two shades: ghost or lobster) bopping along to Chicago Hip-Hop and planning my next international foray or lazily driving up Highway 1 through the redwoods in my 60's drop-top to my favorite hidden beach (deluxe picnic in tow). If you want to know what others have to say about me, I am notorious for being a nexus of connectivity and warmth. Additionally, the highest praise I've personally received is being referred to as the "cutest harbinger of benevolent mischief" (quickly followed by "damn you really know how to curate -paraphrased:- 'a certain kind of delicious group shenanigans.'"), that my baby back ribs are "sploosh-worthy enough to be the catalyst for religious conversion," and that I give off sultry matriarch vibes.
As far as gifts and treasures go, they are never expected but I would be being disingenuous if I said a well picked something won't make me squeal with delight and smother you with excited affections. Thoughtfulness goes a long way with me. I especially love receiving my donation tucked inside your favorite book with unusual flowers (peonies in particular). If you want to know my personal favorite reads, the list includes One River, Three Weeks In December, Spillover, The Flamethrowers, The Brief and Wonderous Life of Oscar Wao, Annihilation, Chasing The Scream, Monsters of God and Borne. If you want to pull out all the stops, getting me a ticket to Lazy Bear, Next, Atelier Crenn or Brooklyn Fare or a similar restaurant makes me melt into a mushy puddle of delighted gratitude. The way to my heart is absolutely through my palate.
Honestly though, the best gift is more time with you. There is nothing I am more passionate about than hedonism and living up to the bon vivant moniker, so you booking me for an evening in which we share many of life's pleasures lets me know you are the kind of guy I adore. I would love to show you my favorite San Francisco or Oakland haunts!
Expectations
Summer/Fall Tour Dates:
Los Angeles
October 24th-25th
NYC
September 18th-22nd
October 16th-20th
D.C.
September 29-30
October 13th-16th
LA
October 24-25
$100 Deposit required for all meetings. Increased deposit for longer bookings.
$1000/hr
Europe 600 E/600 GBP hr
$1600/ 2 hrs
$2,000 / 3 hour drinks date (mezcal and makeouts?)
$2,500 /4 hour dinner date (must include 2 hours of social time)
$2,800/ 4 hrs
$3,500 /clock free night on the town or daytime adventure
$4,500 O/N (14 hrs)
$6,000 24 hrs
$10,000 48 hrs
For travel beyond 48 hours, please contact me so we may discuss specifics.
Fly me to you: Airfare to most major American cities is covered in appointments of 6 hours or longer. I reserve the right adjust for travel expenses (generally $350 or less to cover taxi fare/uber/etc. or lodging if flight time requires.) should they be incurred. Inquire within regarding the minimum length of engagement for included travel fare to countries outside the US.
I am based in the Bay Area, though I frequently visit LA, PDX, SEA, CHI, DC, NY and ATL and can fly to you for clock free dates or longer appointments. My assistant Gina is available to answer questions and take care of screening at which point she will pass you into my loving arms.
I am availible to men, couples, women, gender queer cuties, trans-folk and anyone in between who is safe, hygienic and respectful. I never discriminate on the basis of race, gender, orientation, disability status etc.
Please leave consideration in large bills tucked in your favorite book or in plain view upon meeting and do not ruin the mood by mentioning it. My consideration is NOT negotiable.