+

Deliciously decadent yet sinfully exquisite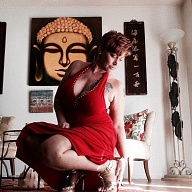 "Touch has a memory" John Keats
These are always fun, aren't they? Well lets begin shall we?
I'ts been said that I am easy on the eyes, exotic, friendly, and full of life and laughter. All true!
I deliberately make you want to come back and see me time and time again. You are the reason I am here, you are the reason I do what I do. You are the reason I fine tune my skills to make each and every experience with me the best it can be!
I offer a sensual relaxation experience with a twist. I'm naturally sweet and kind and very helpful. I am trained in the art of full body sensual relaxation. I use organic products to leave you feeling like you are in a state of euphoric bliss.
I am also trained in range of motion exercises designed to stretch and unwind you from the hectic day to day of your busy life. Think physical therapist, but sensual and friendly.
I am considered a triple threat. A sinful provider, a sensual bodyworks specialist, and a fetish seekers ultimate pleasure. Come spend the time getting to know me and find out for yourself why I have the repeat rate I do.
Until then,
Rachel
The Look
Rachel Moore is a 6', curvy caucasian / native american woman in her late 40's with short red hair and green eyes.
She is available for Men only.
Interests
I have so many interests I will try to keep it short and simple.
I love sports. Playing, watching, going to, enjoying. I enjoy the whole process of the drafts, the pre-season, actual season, playoffs, and yes even those silly exhibition games too. Avid football and basketball fan girl. I even play golf and live where I can practice my short game. It doesn't get much better than that does it?
I love to cook as much as I love to read. I do different dishes from around the world. You could say that I have an epicurean fascination. If you don't own actual books, please, get some. I have a wide variety of things I like to read and love receiving them as gifts.
I am very active in the fetish lifestyle and go to events weekly in the towns I visit. Please stop by and say hello if you see me out and about.
I have a love for the underdog and volunteer free time to helping the homeless. I won't say activist kind of help, but I do try to do what I can for them. Are you starting to see that I am a little bit empathetic to my fellow human beings? I'm also the same way with the animals.
I do have a sense of humor and appreciate a man who has a healthy one as well. Nothing takes the edge off of nervousness like a good laugh.
I have been to a lot of different places and have enjoyed many different things, but nothing is better to me than appreciating what I have or what I am able to bring to anothers life. I hope to bring much joy and happiness to you and yours with the time we have and create many lasting memories.
Expectations
I am available during the morning through late afternoon to early evening. I am not a 24/7 kind of girl and am very selective and particular to the type of gentlemen I cater to. Just like you, I have to feel like we are a good match for eachother. I like what I do, and I would like to see you many times after if possible.
Scheduling is very easy, Very safe and secure. Very discreet. I appreciate you and your discretion as well. Just let me know by email and we go from there.
I am verified and easily found, please have references if you are planning a visit. If you have none, it will be at my sole discretion whether of not we are able to meet. Please understand that it is for my safety and your peace of mind.
All questions regarding sessions are handled in a discreet manner. Rude or overly explicit emails regarding your session will be dismissed. I will always treat you like a gentleman, but remember, I am a lady first and foremost.
Personal hygiene is a big deal to me. I take my time getting ready for you, please have the same consideration for me. You have full use of the amenities provided, take advantage of them.