+

Do you enjoy the finer things in life?Are you open-minded? Up for adventure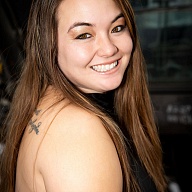 Oh look you found me! Out of all the possible clicks you could have made you clicked on me complete with all my corny puns! It is not a coincidence or an accident that you are here at this very moment.
Back when the internet was invented, not a single person imagined that so many years later it would lead to us meeting here. As a big believer in fate here, you are thinking about dipping your toes into my world. The water is perfect to feel free to sink your foot all the way in and experience a warm sensual wave through the exotic Hawaiian oceans of Layloni!
Maybe you stumbled here to me out of boredom, curiosity or of the perfect intention. Perhaps you are looking for someone that quite simply gets you with all your crazy quirks, idiosyncrasies, and your endearing flaws. Or maybe you're looking for the one that can admire all of your nobility. I promise you that I own my geekiness, as well as my gorgeousness. I will leave you intoxicated. I am defiantly not one to shy away from being corny. I assure you that I am someone that will laugh with you and appreciate all of your passions. Making you feel 100% relaxed. Igniting your creativity and soothing away any insecurities are just a few of my specialties. Of course, you are curious, just who is Layloni? I am a southern Mississippi lady charm you could wish for. I have shared quite a lot about myself, so email me and tell me a little about you.
The Look
Layloni Stroxx is a curvy 27 year old woman with long auburn hair and brown eyes.
She is available for Male only.
Interests
Travel, cooking, reading and more!
Expectations
Is that you in the photos? Yes, All photos are actual, recent photos of me.
Are there any reviews of you anywhere? I love reviews and encourage clients to write them.
Do you take credit cards? I only accept cash
Please be a gentleman and introduce yourself.
Be prepared to provide screening info so I may feel safe and comfortable in your company.
You may count on me for absolute discretion
I do not discriminate on the bases of race, gender, or dis/ability.
Please let me know if you require any accommodations and I can do my best to provide them!
ONLY VERIFIED gents who send PROPER VERIFICATION in you inquiry email/text will receive a prompt response from me at any time of the day