+

Wildly Passionate and Seductively Sweet!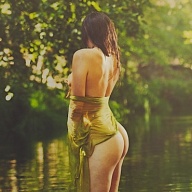 "Out beyond ideas of wrong doing and right doing there is a field. I will meet you there." ~Rumi
Welcome lovers, dreamers, gentle-men, and wonder-women!
What fantasies are lying dormant in your psyche? What desires are you longing to fulfill? What creations are you burning to see manifest?
Let me be your muse!
My name is Maya and my mission is one centered on Divine Love. I am a radiant beauty, a flirtatious nymph, and a true channel of wild feminine energy. With conscious, loving hands and soft serenades, I offer you a journey inward, to a place of deep stillness, and juicy surrender…will you join me?
With vibration and touch, expansive breath and sound, we come together into the ecstatic present to heighten creative energies and engage forgotten spaces in the body. Sensual energy IS divine and creative energy, and it is my intention to help you more fully embrace and express your erotic SeIf!
I am an experienced body worker, as well as an agile yogini. My practice is constantly evolving and growing as I explore new facets of yoga, massage, and tantra.
It is with the most sincere pleasure that I offer my generous services and enchantment to all who seek it with a genuine heart. Come purrrrr with me.
In love and light,
Maya <3
Interests
Tantra, Yoga, Fine Food and Drink, Singing, Sound Healing, Flowers, Dreaming, Massage, Travel, Nature, Laughing, Cuddling, Playing, Juicing, Raw Chocolate, Reading, Hiking, Aromatherapy, Dancing,
Expectations
I am currently available Sundays and Tuesdays *only* in the East Bay and I travel around as well to other states and cities, i.e. Sacramento/Chicago/. My website will list my travel dates etc. www.maya-azul.com
I am available to answer inquiries at almost any time via email and I prefer initial contact to come in this form.
I do not accept texts until we are better acquainted. I require a short intake before we meet for safety and discretion.
Please be prepared to offer your name and information or the name and information of an established provider that you have seen.
If you are interested in a four-handed massage session I have a few select girlfriends I can invite in to be lovingly playful all together. Please inquire for further details and know that pre-booking is required for such offerings.
Bliss Nectar Offerings
Extraordinary MASSAGE * Allow me to glide across your skin and melt the tension that is making you ache. This session is an easy introduction to my world of slow seduction and heightened sensation.
Extraordinary MASSAGE
350/1.5hrs
425/2hrs
Extraordinary Tantric Body Play * For those yearning for a deeper connection with ((Shakti)) this session involves a divine dip into the body-based practices that ARE tantra. I create a Sacred Space for you to indulge yourself safely and soundly. Guided breath work, meditation, and sounds open us to the sweetest self awareness pleasure!
Extraordinary Tantric Bodywork
400/1.5hrs
500/2 hrs
Contact Info
Contact
Information
+1 415-779-2027

Please leave a message.
External Links