+

Passionate tantrika with exquisite skill for the discerning seeker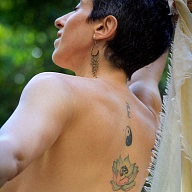 Listen to the call of the soft, wise animal within. This is the body of longing. This is the compass set to True North. Listen, feel and follow where it will lead you.
IN BOSTON 10/23-26 ONLY!
It's your time to slow down and just let yourself be. Allow me to be your guide…
Are you seeking high quality touch to relax and replenish you amidst the stress of your days? Then look no further! I am a well trained healer and coach with a keen intuition and gift for helping people unwind the patterns of tension that far too many are trapped in.
The space we will co-create is one where all of you is welcome, and you're invited to share your dreams, fears and all that makes you uniquely you so we can weave them into a journey unlike any you've ever taken before. Let's take the focus off thinking and shift into feeling, connecting to the impulses and instincts of your true nature.
No matter what you choose, our time together is dedicated to your enjoyment and expansion. The full scope of my exquisite attention and ample experience are in service to you. And whatever we co-create, you'll delight in my joyful smile, sharp intellect, feminine form and expert touch.
SESSION DETAILS:
I offer sessions that can focus a variety of experiences such as:
~ exploring the pleasure profound of relaxation
~ expanding your awareness of sensation and emotion
~ journeying through the chakras
~ receiving classical tantric rituals
~ healing trauma stored in the body
~ improving connection in your relationships
Visit my site for more details on the elements you can include in your session, testimonials from longtime patrons and more photos.
For first time patrons, once you complete my new client form we'll have a phone call to assess your intentions and ensure our compatibility. Your respect for my protocols is essential and is the first impression that you'll be making upon me, so I encourage you to be considerate of that and exquisitely clear in your communications.
I welcome tributes for my time. Depending upon the elements we incorporate, the following range applies:
1 hr: $350-$450
1.5hrs: $450-$600
2 hrs: $600-$750
2.5 hrs: $750-$900
3hrs: $900-$1050
Credit cards accepted with a 7% processing fee
ABOUT ME:
I'm a trained relationship and sensuality coach and bodyworker, with a long history teaching both yoga and tantra. Many often comment on my graceful and deft hands, and bodies are my favorite instruments since it truly is a symphony of sensation that I create! Clients appreciate my sensuous, sincere, straightforward style.
A modern day renaissance woman with many diverse capacities and experiences, I earned my degree from a top-tier university and worked in both the non-profit and corporate worlds before following the call of my heart into the realms of sensuality. I've traveled extensively for years with a particular focus on India and Bali to enhance my tantric expertise. I now devote myself to supporting others in awakening their ecstatic potential.
I am as professional as I am passionate, with an open mind and heart and a deep commitment to clear communication and to demystifying and honoring the sacred nature of our bodies and relationships.
I look forward to sharing sacred space with you!
The Look
Devi is a 5'8", curvy, 35 year old caucasian woman with short hair and green eyes.
She is available for Male, Female, Couples, and Trans.
Interests
I am a passionate woman, through and through, with a true curiosity about the world around me and a zest for life. I've been blessed to have many amazing adventures and experiences, so perhaps we'll swap stories! Here are some of the things I most enjoy:
Dancing with my bare feet on a smooth wood floor or soft grass to soulful music
Yoga as my longtime practice for unwinding my body and mind and connecting to spirit
Hiking, camping, soaking in hot springs, listening to a rushing river and marveling at alpine lakes since time in nature is my biggest joy.
Travel to places near and far, immersing myself in new worlds and community
Delicious food, made with love, sourced with care, organic, vegetarian and fresh
Exquisite company, be it for a soulful cuddle, a mountain excursion or twirling around a dance floor
Expectations
Please review my site in full for details about offerings and ettiquette BEFORE you contact me.
I appreciate you matching my respect and integrity in all communications and encounters. I offer a high caliber professional service and only engage with clientele who match me in those standards.
Advanced book is highly encouraged and always appreciated. I am typically available for sessions from 10am-9pm.
First-time sessions are scheduled exclusively by phone call upon receipt of your new client form. Visit to expedite your booking. I DO NOT communicate about session details or confirm appointments with new clients via text.
Texting is fine for established clients or new ones after you have booked your appointment for things like logistical questions and updates.