+

The Cat Next Suite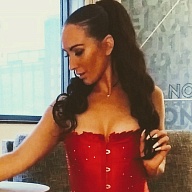 The Girl/Cat Next Door/Suite… Whichever you prefer… I can be either one hehe
Honestly, I could sit here all day being dorky & making silly cat jokes/acronyms& sayins ; such as "Cat got ya tounge", "The Cat is outta the Bag", " Morals of an alley cat", but instead I'll tell you a bit about Me <3
I'm your typical Girl Next Door, the innocent one, you wish, but had no idea had another side.
Depending on the mood you get me in, I can be a little of anything and everything ;)
Im adventurous, I'll try anything, and Twice if I like it! I can be sensuall but I can also be pretty rowdy with lots of "spicy talk" (something I* enjoy). And other times I enjoy being your affectionate purrring kitten, making me your partner (among other ways).
I have a bubbly personality that enjoys to laugh! Actually, I have been told I laugh at anything lol! But most of all, I will always put you at ease and make one feel comfortable. I will never do anything out of your own boundaries!
I go to school (bet you heard that one before lol)… But no, i really do enjoy what i go to school for. As i love learning, but most of all learning about behavior(why we do the things we do) and how the brain and self work together… Which is why I guess I'm also a fitness instructor. I love being fit and healthy. I have had things in life that have tried to set me back in life so working on myself and learning about myself is a lifestyle.
I obviously enjoy the finer things in life. Taking care of myself, a good spa day, experiencing and trying new things. Living the suite life
The Look
CatrinaGnd1 is a 5'4", athletic, 30 year old caucasian woman with long blonde hair and hazel eyes.
She is available for Male, Female, and Couples.
Interests
Being active ; Hiking, Biking
Fitness; yoga, Barre!
Getting dressed up with somewhere to go
Loveee halloween
Skin care & hair!
Travel
Expectations
What to expect from your encounter
I control myself in a classy and discreet manner, in which I also expect the same in return. Most of the locations I stay at are at the very least 3 star accommodations. I will never be seen in a short stay/ or pay by hour type room setting. I can promise where ever we end up meeting, you will feel as comfortable as the situation can get.
Screening… Please email the following, preferably in first intro email
A brief introduction about yourself, including your height, weight, and race
Any handle name you are associated with on each board/website
At least 2 verifiable references, along with their best way of contact (please give a heads up to your references before sending me their info)
I do not offer short stays or half hour encounters, I am a low volume type of girl and this type of meetup prevents this from happening.
I understand if one has to cancel, things come up, it happens, but please email me a heads up. No call no show will result in your information being submitted to the blacklist.
Every "rule" or expectation I have is to keep my community, my fellow ladies and gents, and myself safe and healthy by being informed.
Live and have fun!
Cat Rina