+

Join me in a world of magic and endless pleasures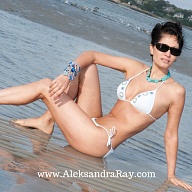 "A dreamer is one who can find his way by moonlight, and his punishment is to see the dawn before the rest of us" – unknown author.
I am an incurable dreamer. If that appeals to you, then I invite you to join me in my world - a world of magic and endless mysteries, a world of unusual love and genuine pleasure.
My long body is beautiful and graceful, and I care for it daily. I eat consciously and thoughtfully (never miss a good fine chocolate :-) ) and I do not drink or smoke, I practice yoga once in a while and choose to ignore jealous people. I have been told that I have a natural elegance and nobility in my appearance, and, perhaps equally significant, it is important for me how I dress. I enjoy taking the time and giving attention to dress appropriately for every occasion. Whether attending a diplomatic reception in Boston or elsewhere or joining an extended family at a holiday resort, my appearance is impeccable, noticeable and entirely appropriate. I prefer elegant designs and pastel colors. I enjoy experimenting with lingerie and always am open to expanding my great collection.
In many respects, I am the feminine manifestation of my art, my jewelry. My body is like the metal frame of a fine brooch with shiny, polished forms, soft, matte shine and a soft, sensually sculpted curved shape. My mind, on the other hand, is like the gemstone in the center of the brooch - glamorous at first glance, but full of infinite shades, hidden in the depths of the faceted surface.
I could speak about myself and my approach to beauty and life much longer, but I would like to highlight the significance of a very important event for me - our meeting.
If you are still reading, then you want to know more about me. How wonderful! Scroll through my images or simply contact me.
The Look
Aleksandra Ray is a 5'7", slender woman in her late 40's with short brunette hair and brown eyes.
She is available for Male, Female, Couples, and Trans.
Interests
I tremendously love art. It is my way of expressing myself, to bring to life with my hands and with my soul creations that bring pleasure to me and to those I love. I am a passionate artist and a professional jeweler. I love to share my art – the paintings I give away to those I love, and the jewelry – I sell. In every piece, I include part of myself, of my soul. I like to "give away" or "share" myself in that fashion, and I derive great pleasure knowing that this gesture makes people happy.
I am a free spirit with a firey character. Neither time, nor stereotypes, nor generally established order have managed to break my lightness of being. I love to have long walks, to contemplate the sunset, to read books. I often take the camera and wander aimlessly in search of the perfect image around Boston – the meaningful experience. I am a practitioner of yoga, appreciate good humor and never say no to fine Swiss chocolate. I love meeting new people. I love to talk, to debate and to smile. I have a weakness for stockings and cute kittens.
Expectations
Expectations for fun spent time together is a must. Do you agree? :-)
* Please, do not send me an email with just the sentence "Are you available?" My availability depends mainly on how fast I can verify you. Please consider submitting the verification form on my website (which is my name .com).
** I do provide an incall only in the suburbs of Boston, not in downtown Boston.