+

Madison, Companion For Travel, Dinner & More…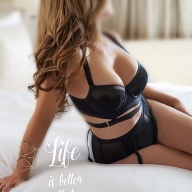 Live life with no regrets!
As a Companion I will accompany you to a company function, dinner date, lunch date, travel companion, special event or just needing someone to talk and spend time with. As a Companion my compensation is based on companionship services only.
As being a true elegant lady at the beautiful age of 42 with perfect poise, I know how to have fun! I'm Sophisticated, elegant, classy and I dress to impress. I can hold my own anywhere and in any company, always well mannered. My stature is a stunning 5"10 barefoot and over 6' feet in heels. My weight is well proportioned for my body and I work out on a daily basis. My lifestyle is all about taking care of my body, mind and spirit. I do not smoke, in fact, I have never smoked a day in my life, or have ever done drugs. I live a very clean and healthy lifestyle.
My friends describe me as: Accomplished, Au Courant, Chic, Classy, Courteous, Cultivated, Beautiful, Educated, Entrepreneur, Exquisite, Exuberant, Funny, Gallant, Genuine, Giving, Good sense of humour, Intellectual, Kind, Loyal, Luxurious, Polished, Real, Refined, Sensual Sincere, Smart, Sophisticated, Stylish, vibrant and Well-traveled. (As I am a detailed person, they needed to be in alphabetical order). ; )
Moreover, I am well-educated and well-versed in politics and world events, however, right now in this election, who knows what will happen! I'm also a great fan of modern and old art and I enjoy visiting art galleries in many different cities. I have a passion for old architecture/buildings and historical sites. History is amazing.
Expectations
Please read through my "Expecations" before you book your reservation with me.
When contacting me, please introduce yourself and tell me about yourself. After viewing my website, you'll find out more about who I am as a person, likes and dislikes. It would be nice to know about you as well, other than your screening information. When you make contact with me via email, please do not include any crude or graphic language. Otherwise, your email will be blocked and deleted.
If you have sent me an email and you do not receive a response within 24 hours, it could be for a few reasons:
1. You've written a one-liner, such as "Hey, are you free tonight" I prefer a gentleman to write a nice self introduction and what type of reservation/package you would like to make. If you can't compose a complete sentence or a couple of paragraphs, I don't think we'll be compatible.
2. You've referred to sex, money, a fetish, or all three in your correspondence, or used crude and graphic language.
3. You have written to me while I am traveling, or your email ended up in spam for some reason. I always check my spam folder.