+

Dominant Femme Fatale & Kink Consultant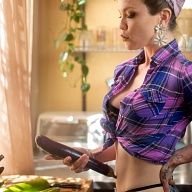 "Every Saint has a past, and every sinner has a future." ~Oscar Wilde
How about a little bit of role reversal… just you and I. This time the lady is in charge and the man will enjoy doing exactly as he is told. I am your goddess, your ravishing femme fatale, and you belong to me. I don't want to hurt you my sweet pet, I just want to make you devoted to my happiness. You do so willingly because I posses all of the dominance and steadiness of masculine control yet I exist in a soft and exquisitely feminine form. I am everything you wish to serve. And you my dear, are my beloved submissive. When we are together, every conflict in your mind suddenly makes absolute sense. Every secret you keep deep down inside is brought forth in open celebration, free from shame, when you are with me. Do you not want, in a deep and shattering way, to offer yourself in service to a dominant woman so that you may finally let go of control?
I am a gentle femdom. My proclivities tend much more towards psychological domination and role reversal rather than traditional bdsm. Many men find themselves seeking a woman who will simply take control. However there is so much social taboo around women being dominant and men being submissive that prospects can often feel incredibly bleak and leave one feeling very disheartened. I am here to assure you that what you seek is not only 100% valid but also incredibly common and met with passionate enthusiasm from a woman such as myself…
My personal interest in this kind of domination lies in addressing the glaring issues facing many men as they navigate their socialized male role. These issues can include, the constant demand to perform or your manhood being determined by your dominance over others. I am an excellent antidote for the man who is tired of the agregious lie that dominant men are stronger than submissive men.
What I love about my relationships with my submissives is that it allows me to be my most authentic self. After nearly a decade of trying on many different hats in this business I found there was no reason not to do exactly as I wanted and allow like minded people to find me. I now meet each seeker with an authentic joy to explore something deep within us. This level of exploration and debunking societal norms is something I can get behind with every fiber of my being. When you reach out to me you are meeting a person who is fully present and authentic.
I seek connection with spectrum of seekers. Many clients want to dive deeply into submission, exploring many realms of psychological domination. I love transforming someone into a little sissy or training the perfect maid to tend to my household chores. Perhaps even providing entertainment for my friends and I!
I am also no stranger to a bit of loving humilation. After all, sometimes humiliation is integral when staring into the mirror of your deepest fears and shame. This is all part of the strength and healing that can be found in the practice of female domination.
Others prefer to simply dip a toe in. It's absolutely fine if you are not a lifestyle submissive but curious to try new flavors. I applaude an adventurous spirit well met with my own dominant nature. With me you won't find the severity and rigamarole that is often customary (as it is sought after) with traditional femdoms. I possess a more gentle approach that allows the wiggle room for a surface exploration. However I must deeply impart, that no matter who you are or what you seek, each person is beholden to my rules and boundaries. When you are in a room with me, I am in charge. There is absolutely no wiggle room there my friend ;)
See you in your dreams…
Penelope Waters
The Look
Penelope Waters is a 5'7", slender, 33 year old caucasian / asian woman with long brunette hair and green eyes.
She is available for Male, Female, and Trans.
Interests
It seems I've caught your eye so perhaps you would like to know how to catch mine…
Lingerie is my addiction and the fastest way to my heart. As Sophia Loren most aptly put it: "A womans dress should be like a barbed-wire fence, providing a formidable barrier without obstructing the view." Indeed, well crafted lingerie sculpts the feminine form magnificently. It is truly the gift that keeps on giving… I am most fond of Bordelle, Honey Birdette, Journelle in NYC and Trashy Diva in New Orleans.
As you may have gleaned from the Sophia quote I am deeply inspired by classic hollywood actresses. It is their poise and presentation that has captured me since I was small. As I watched Dorothy Dandridge in "Carmen Jones" and Rita Hayworth in "Gilda" I knew exactly the kind of woman I wanted to grow up to be. Tura Satana is one of my idols and I continue to be inspired by her story. I still sigh with delight thinking of her turning down Elvis and keeping the ring… Good Lord, the don't make 'em like they used to! I attempt my homage to women who inspire me through my presentation and decor. I prefer vingtage furs and jewelry, rhinestone and prescious, to most of today's modern fashion. Take me on a shopping spree in NYC, SF, Chicago or Nola and I'll show you some of my favorite vintage shops!
While we're there let's check out some record shops! I have an extensive vinyl collection of varied genres. But my favorite music, hands down, is 50's & 60's R&B and Soul. Ann Peebles, Betty Davis, Sharon Jones, and Tina Turner are some of the many that I adore.
My love of the oldies doesn't stop there. I am deeply attracted to classic cars. I cherish those time periods when a car was still an expression of beauty, style and personality. A well made car turns your head like a gorgeous femme on a summers day. When the engine revs and you can feel it in your sacrum… the smoothness of the gear shift… the feeling of gliding through the streets like a shark on land. It's a lip biting experience to say the least. I could never begin to pick a favorite but mustang, cadillac, trans am and pontiac gto top the list so you get the idea… If you have one of your own and you'd like to take me for a spin, I highly suggest you speak up. You'll be glad you did ;)
Why don't I have my own, you ask? Well, at some point I realized my 20's were coming to an end and that life was probably going to persist after they ended. Seeing as how I had never considered a future beyond that point, I decided it was time I start thinking about how I was going to invest my money. I looked at my options which were either buying sick ass classic car or a fixer upper house in New Orleans. (Yes, they were about the same price!) I made the first responsible, adult decision I have ever made in my life and bought the damn house. Five years later I live in a beautiful home a few blocks from the Mississippi, that is still undergoing many renovations. I found it to be preferrable to work slowly, here and there, rather than taking out a loan and doing everything at once. It does not suit me well to be beholden to anyone least of all a bank!
As I had mentioned before my winter project has been an upgrade of my beautiful space with my dear friend Miss Jade Thunderstorm's Dungeon Stormcloud. I am overwhelmed with happiness at the improvements and the incredible beauty of the space. A special thank you to our devoted submissives who continue to come back for more, offering their bodies and resources and devotion that makes our continued growth possible. Still in the works is my submissives bench in production now!
You can find links to donate to my submissves bench, all my favorite lingerie shops and more on websites wishlist page.

Expectations
Discretion and safety are very important to me as I am sure they are to you. Being the gentleman that you are, I know you will want our first interaction to get off on the right foot. To ensure this, please start by providing me with a polite introduction. Feel free to tell me a bit about yourself, where and approximately when you would like to meet. Please be discrete in your messages as I will not respond to any explicit requests. In addition, be sure to provide screening information when contacting me for an appointment.
The Screening Process
I do a simple screening for all new clients. There is absolutely no exceptions to the screening process nor can I afford to be lax on my requirements. When you contact me please be sure to provide one or more of the following:
1) References: 2 or more providers you have seen in the last year. Please include a link to their website, the email or phone number you used to book with them and the approximate time you met.
2) Your P411 account. Please send me a message via p411 to expedite booking.
3) Employment verification such as a link to a business website with your full name on it, or a link to your Linkedin account, or a scanned copy of a photo work ID, or a link to your employer's website along with a blank email from your work address.
Upon Arrival
When you arrive please place your offering in an unsealed envelope on the table. Please do not arrive early as I like to have my space and myself fully prepared to welcome you when you walk through the door. If you are going to be late please let me know, but don't stress as I understand that life happens and I will accommodate in any way that I can so that this special time does not feel rushed.
Deposit & Cancellation Policy
I require a 50% deposit on advanced appointments from all new clients.
Contact Info
Contact
Information
Add Penelope Waters to...