+

A caring and compassionate provider with a thirst for excitement

Gender

Transgender (TV/TS)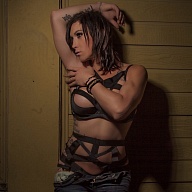 River Stark is an adult film performer and director that is sure to meet and exceed all of your expectations, creating a warm, inviting, and comfortable atmosphere for the most discerning individuals.
The Look
River Stark is a 5'9", slender, 29 year old caucasian TV/TS with shoulder length black hair and blue eyes.
They are available for Men, Women, Couples, and TV/TS.
Review ID: 301069
P411 ID:P230254
November
Philadelphia, PA 3-6
King of Prussia, PA 8-10
Boston, MA 12-14
Raleigh, NC 20-23
Atlanta, GA 25-26
Jacksonville, FL 28-30
December
Orlando, FL 5-9
Palm Beach, FL 11-14
Miami, FL 15-19
For those of you that don't know me, I'm a TEA and AVN nominated Adult film performer, with many best selling titles, and images on the cover of several top-rated films. Hidden beneath my warm alluring exterior and inviting blue eyes is a ravenous appetite for excitement and pleasure.
Several years as a student pursuing two degrees, and time as a busy professional gave me the chance to explore my fantasies and shape the power of my own sexuality. I've discovered the freedom to explore far beyond the seemingly quiet, nerdy, good-girl persona to find a more mature and fiery side as a woman who can also command her own desires while creating them in others. I have discovered how to weave those two experiences and states into one balanced package.
I have perfected a craft few get to experience and taken adventures on the way that I used to have only bee able to dream about as I read my favorite books. I work out intensely five times a week, spend my free time reading (I love historical fiction and human behavior) and learning Swedish, hanging out with my friends, and traveling to some of the most amazing locations in the world.
If you'd like to gain an idea of just how much I enjoy my adventures, I'd be delighted. I'm always honored to meet new people, and it would be my pleasure for you to join me. I love good company and delicious connections, and nothing excites me more than discovering fantastic natural chemistry. I cater to almost any situation, whether it's dressed up for an evening out or jeans and a t-shirt, or dressed down for time alone in a cozy and comfortable upscale location for some time to relax, unwind, and play.
Every man deserves to have his fantasies turned into reality every once and awhile. I don't merely aim to please in fulfilling those fantasies: the gentlemen that I see experience the best in life in all of their endeavors and expect their time with me to be no different. I make sure that our time together exceeds even your wildest expectations. I'm very versatile and adaptable – if you can dream it up, I can exceed even your wildest expectations.
River Stark
Interests
For those of you that may not know me, you can find me across social media platforms with WickdTransWitch. Im an avid cyclist and street/ opportunity photographer and spend quite a bit of my time on a saddle or behind a lens. For clients that opt for a longer day, or multi day, booking, I often go on sight seeing trips armed with a camera, among other things. I'm a lover of music and a good time and follow where my wanderlust spirit takes me on my travels to find those things.
The greatesst gift ideas, and a speedy way to my heart, is always through photograhy. Check out any number of my wishlists for gift ideas!
Expectations
Scrrening is mandatory for my safety, as well as safety of those I see.
Screening Requirements
All clients must provide reference from either 2 providers they've seen previously within the last year, a message form a site such as P411 (with okays) or alternative review site with reviews associated with the user account, or provide me your full name, address, email address, and real telephone number. I dont accept internet/wifi number, or any number not registered to you.
Please have screening information ready when contacting me
Donation (varies by city-Always current)
450/ 1 hour
700/ 1.5 hours (recomended)
850/ 2 hour
1350/3 hour Dinner Date
1800/4 hour Dinner Date
3000 overnight (10pm-8am, or any 10hr period)
4000 full day (10am-8am day 2)
—-each addition day is 1500; any engagments over 72 hours is open to negotiation—-
-Outcall apointment are +100/hr
-Travel to additional cities can be accommodated with a prepaid booking that ensures I visit your city next.
-all bookings that require travel exclusively for that visit require a 50% deposit prior to travel
I accept multiple forms of payment
-cash, card, and several other electronic sources
When Contacting Me
Please keep in mind that I will not discuss the donation or services, it is non-negotiable and the donation is for my time as a companion and model. I operate on a first come first served basis. Failure to follow this guide result in a number block.