+

DC Will Never Be The Same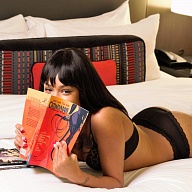 I would describe my philosophy as a companion as adventurism, in the truest sense of the word.
The Look
Veronica Phillips is a 5'7", all natural, 25 year old black / latina woman with shoulder length black hair and brown eyes.
She is available for Men only.
I'm 24, from Oregon and taking a little time to do something crazy before I spend the next couple of years doing something absolutely insane. Can you think of a better description of grad school than that.
Where did you grow up?
Portland, Oregon
My favorite color is?
Varies.
My favorite food is?
I love to eat… I just had the best lamb dish in Las Vegas, so at this moment, lamb.
My favorite dessert is?
Pineapples
My favorite (non-alcoholic) beverage is?
Coffee with cream
My favorite (alcoholic) beverages are?
Champagne or a nice porter, good tequila.
My favorite animal is?
I love dogs!
My favorite genre of music is?
I have an eclectic taste in music; everything from classical to euro-pop to acid rock to latin jazz.
I would derscribe myself as…?
Feisty and indefatigable.
My dress size is…?
4
I usually sleep in…?
Vintage lingere
My biggest "private" talent is…?
I'm a world class dirty talker.
Men love the way that I…?
Say their names.
Interests
I like art, and music, and fashion, and good food. I'm probably best described as eclectic…a little 'counter culture' with a twist of 'funk' thrown in.
What are your hobbies?
I enjoy reading and listening to lectures about science. I enjoy traveling by myself. I've been to almost every state. I like hiking in state parks. I also am quite the skill-collector. I know a little about a lot. :)
Do you play an instrument?
Yes, the clarinet and bass clarinet
Expectations
Provider references and referrals are always welcomed & appreciated. That said, I will not rely on references alone for screening.
An unsealed envelope left in plain sight is a great way to handle the donation. Please don't hand the envelope to me directly.
It's always great to give me a little privacy just so I can put it safely away. It might be a good time to wash your hands!
Aggressive behavior will not be tolerated. Such behavior will result in the early termination of our time together.
Don't be alarmed when I make a "safety call" at the beginning of our time alone. It's something I have to do.
Being freshly scrubbed is an absolute must. You're always welcome to use my shower if you need.
I respect the personal choices of every individual. However, the possession and/or use of illegal drugs will not be tolerated in my presence. Failure to respect that boundary will result in the termination of our time together and the forfeit of the donation.
Contact Info
Contact
Information
Add Veronica Phillips to...