+

I'm your kinky girlfriend & provocative playmate!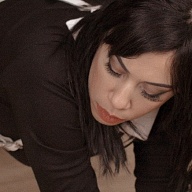 I'm a magical blend of quirky, relaxed intimacy with a taste for kinky, playful experimentation
The Look
Stella Rosen is a 5'10", all natural, 28 year old woman with shoulder length brunette hair and hazel eyes.
She is available for Men, Women, Couples, and TV/TS.
"Hello, Mister…":
A phrase I regularly find escaping my lips upon opening a door. I see you for who you are immediately, but who am I? Am I your commanding mistress, your bratty princess, your adventurous companion? I'm a little of none and all of the above. I'm an East Coast downtown throughly modern minx by way of Northside Chicago. I'm a magical blend of quirky, relaxed intimacy with a taste for a kinky, playful experimentation with the right partner. Ultimately, I'm a cool, normal girl who happens to like to get a little sultry.
I'm your kinky girlfriend and provocative playmate.
I spent years working and training as a dominatrix, well, switch actually, but honestly never felt like the title accurately reflected myself and my style. I remain touchable and real. I love to laugh and break character with a wink and a grin mid-scene. I am passionate, skilled, and educated in the technicality, vocabulary and philosophy of kink, but am equally fluent in the language of love.
I simply would never be able to choose between the two.
I've had many travels- I've run away with the circus, I've picked up and moved across the country on a whim, I've played muse and been immortalized in several published works, I've curated art shows, etcetera, etcetera… I'd love you take part of my future adventures privately discovering our latest curiosities.
Interests
I'm in love with film, art and design, as I'm sure you can suss out from my 'Favorites' above. I am a romantic and highly libran so I'm very visually stimulated and respond to expressive story telling. I have a lifetime background and education in illustration and fine art. My media of choice these days range from digital to three dimensional, all of the illustrations on the site were lovingly hand done in pen & ink by myself. I also enjoy telling bad jokes, complaining about current events with like minded folks, natural cooking, and long, adventurous road trips across America. One day, I swear I'll learn to garden, read tarot, and do either aerial silks or lyra, but those lofty aspirations remain to be seen presently. And although it may contradict my more avant-garde, bohemian interests, I unapologetically adore professional wrestling. Feel free to playfully make fun of me for it. I fully understand.
Expectations
I'll greet you with a hug and a smile like we're already familiar souls. If we are meeting privately, please take a moment in the restroom to freshen up and wash your hands, mouthwash, etc. While you're in there, place the donation on the counter at the beginning of our time together. If we're meeting publicly, placing the donation in a book or gift bag is absolutely classic to ensure our mutual discretion. I'm a lady and don't like to have to bring it up, so please do not put me in that position. Once the boring part is out of the way, the fun can begin.
If we've opted to explore fetish or role play, we will take time out of our respective roles to sit down and go over hard limits, health concerns, and safe words before we dive in to our kinky head space. Even if we discuss this during our initial messages, its still important to me to discuss our needs in person prior to indulging together for the first time. For future rendezvous, once we've become acquainted with each other's minds and bodies, I would love to (discreetly) greet you in character and start our scene as discussed upon arrival.
I primarily frolic in the Gold Coast, but also have a location in Lincoln Park. There is plenty of free parking nearby as well as that fantastic public transportation the Windy City is known for. I'm also happy to meet you at your boutique downtown hotel. Please let me know if the hotel elevator has a keycard entrance. Like a sexy spy, I will be dressed a little more conservatively than usual to pass as a civilian in public, but I can promise what's underneath will be much more enticing…
I prefer to play on my home turf (my incall) or in a neutral location (a hotel in the city) the first time we meet, but would be flattered to invited to your private residence within city limits once we've solidified our relationship. I currently do not play in the suburbs. I'm a city girl at heart and prefer to keep it in Chicago.