+

Ms. C. C. Cane, Your Petite Mature Companion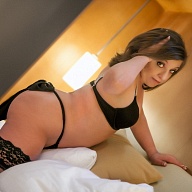 Le seul vrai langage au monde est un baiser.
The only true language in the world is a kiss.
Musset
Bonjour,
Je m'appelle C.C. Cane. I am a passionate mature woman who lives everyday in the moment. I live by my motto the worse case scenario wont happen and the best case scenario wont happen, it always ends up somewhere in the middle. I am well educated holding an assoicates, bachelor's and a master's degree. My personality can best be described as totally loyal to my friends, a down to earth person and just a fun person to be around. I am even tempered and not much gets me going unless of course it's a family member.
Many have commented that I look like a perky former morning personality, although I don't see it. I am half French and half German, coincidentally just like Katie, hmmm maybe thats why I look like her or I should say she looks like me. I had the opportunity to live in Paris for 2 years and would go back in a heart beat.
Although, many have said the saying one in a million referring to many things in life, my eyes are truly one in a billion. I have a rare eye color that only less than 1% of the world's population has. The iris of the eye is blue with a yellow pigment but appear to be different colors based on what I am wearing and the day. Although my pictures all show me without glasses to show my eyes and features better, I do wear glasses.
In my free time you will see me on the dance floor dancing west coast swing and hustle. I can carry on various conversations depending on the social setting making me a great companion for the gentlemen requiring an attendee for those important business/client functions or high society event. I can also be that special date for a night on the town, a good political discussion over drinks, or just a casual talk over a nice glass of wine.
I am a multi-faceted person, I love my politics and follow it closely. Don't be afraid to contact me if you are of another party as I always love a good debate. I also have a vast following that I found out about by mistake on another site due to my witty ads.
I am available almost anytime that fits your schedule for a nice relaxing meeting. I have chosen to do this since flexibility in my personal life is the utmost important currently. I prefer 90 minute meetings or longer since I usually can accommodate your schedule and mine easier.
The Look
Ms C C Cane is a 5' caucasian woman in her late 40's with medium length brunette hair and blue eyes.
Interests
In my free time you will find me on the dance floor dancing West Coast Swing and Hustle. I have also won nationals for my needlepoint work. I work out two times a week with a personal trainer to stay in shape. Now that it is the "silly season" (political campaigns) I am once again involved supporting the candidates I believe in.
Expectations
Just as you have expectations of me, please honor those same expectations which I will also have for you. I expect you to be respectful of me which will enable us to have an intelligent conversation, which leads to that flirtful banter between us.
I am a low volume companion because I like to enjoy the company of the gentlemen I meet. With that said I prefer longer engagements with gentleman who enjoy a nice relaxing evening. This is best shared in dates over a cocktail or dinner with one another with intellectual inviguration leading to some fun