+

Luxurious Brickhouse :: Busty & Curvy, yet Athletic & Toned.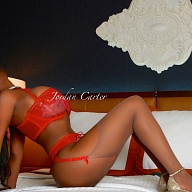 Without appearance there is no first meeting.
Without performance there is no second meeting.
Without chemistry there is no third, fourth, fifth …
The Look
Jordan Carter, Luxury Brickhouse is a 5'5", curvy, all natural, 30 year old black woman with medium length brunette hair and brown eyes.
She is available for Men, Women, and Couples.
There is a reason that you found me…
I share the same desire and exploration of companionship. My needs are your needs… we are the same - two souls on an journey where encounter is the pathway to self-knowledge.
You and I, together, exploring our most intimate vulnerabilities seeking a level of satisfaction that springs our energy to life through an encounter - an experience that does more than get us to the next day… it awakens us to something else not possible within us brought to life by the contact itself. We are after a seemingly complex yet refreshing thrill and prefer not to put off our buried urge when we come across the right person. You only live once and we are out to make the best of life.
Who is Jordan Carter…
I am a woman of Delicious Complexities to experience and polarities to explore. Won't you join me?
Unpretentious…
Layered…
Vulnerable…
At our meeting of the eyes, you will find that I curiously explore you. I am a woman full of sensuality that enjoys a fair touch of being your unassuming Femme Fatale.
It is not easy to write about me, but it is simple to write about our fit into one another… Personality written by a fantasy that brought me here.
When I am with you, I enjoy it, where ever we may be.
Interests
Only for Slixa Men! The raw, unedited, response…
I am an online anonymity blog junky, "latest in business" literature addict, "law of attraction" believer, introductory tech geek and data freak…who happens to L O V E dolling up, dating and traveling whenever I need a break from focusing on my longterm goals.
There is no such thing as intimacy without a connection. Anyone can do the task, but I need the journey. My time is for those that want the same, as I do this for fun and freedom to be myself.
Inside of me is a creative soul that made the mistake of getting a degree in an over-regulated field. Escorting helps me marry my creativity with my skillset while having fun and most importantly enjoying what I do.
I was supposed to list my interests, but an open mind finds it hard to narrow that list down. Admittedly, my mind may be too open…which is good for us ;-) By constantly being introduced to new things, I find myself drowned in wanderlust. Not just with travels, but dining, activities, art, wines, you name it.
Contact Info
Contact
Information
Add Jordan Carter, Luxury Brickhouse to...
your address book

(vcard)

your smartphone

(QR code)

Scan the following QR code with your smartphone to view or save Jordan Carter, Luxury Brickhouse's contact information: