+

tell me you don't see Caribbean in every curve of my body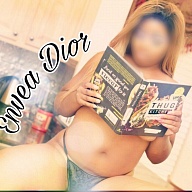 Look at me an tell me you don't see Caribbean in every curve of my body.

The Look
EXPERIENCE Envea Dior is a 5'3", curvy, all natural, 22 year old black / native american woman with medium length black hair and hazel eyes.
She is available for Men, and Couples.
Envea dior
the words of a sweet & sultry carmel indulgence. Body of the most sensuous mountain tops accompanied by a smile brighter then stars alongside sea pearls and the finest emeralds get lost in her sweet personality while being pampered, Heaven must be missing an angel an this beauty encounters all the wondrous gifts of body an grace this exotic island babe is not to be missed be sure to book your appt while this angel is in your town she does tour frequently
Interests
I'm a simple girl in a pretty big world Island bred and here to spread some interest, I'm not too hard to please and pretty easy going upon bookings are contact of that sort I prefer a brief intro a quick introductory if you do not mind it let's me know you're not weird at least are an oddball it shows me your personality as well as mine please do not ask any obscure subliminal are rude cruel questions I like to keep things classy I'm big fan of the following
Roses an chocolate
Gift cards
Smell goods,Overall thankfulness of my service (TIPS)
The following are things I like to do in general as far as Hobbies things we both are interested in that we can probably do together and have fun extend our time
Hiking
Traveling
Cruise
Shopping
Flower garden
Museum
Planetariums
Expectations
Do proper research upon booking an appointment I'm very sweet but don't want to waste 30min explaining something you could've googled.
Yes, I'm aware some providers offer CC acceptance but due to the issues with it I do not offer CC/ unless you've been verified are I've seen you before, I understand that convenience of it. But would love to find a final process that people can't scam me on but until then I only accept Cash/ are once verified threw a secured link
Yes, I mostly accept Cash, meaning if your booking a Experience I'll ask you once which type of Experience an that's it, Upon your arrival be a Gentleman an lay it down somewhere Visible (table,TV,BATHROOM SINK,ETC) as I prefer to not mention donation/TIPS because your experience shouldn't feel like a transaction it should feel like a missed connection that met agian an we had a sexy fling spontaneous an euphoric is the Moto
DO NOT HAGGLE MY RATES I'm supplying the utmost intensifying Experience only you'll remember alot goes into that outfit make up aromatherapy etc I feel it's worth XAmount then it's worth XAmount if you don't have it I understand just save up for it treat me like a monthly golfing trip are a new car put something aside to treat your self with later
SCREENING IS REQUIRED IF IVE NEVER MET YOU sorry I know it sucks but in a way it's a clear view for us both it's a safety precaution to help with unsavory characters as well, I'd rather be asked for screening from a provider then her just send me an address 1-sounds way to good to be true 2-potential robbery 3- Just remember it's quality over quantity any day an once it's over its over you wont have to endure screening well at Least from me anymore an you'll be on my priority list
Contact Info
Contact
Information
External Links
Add EXPERIENCE Envea Dior to...
your address book

(vcard)

your smartphone

(QR code)

Scan the following QR code with your smartphone to view or save EXPERIENCE Envea Dior's contact information: